Best Quality 2014D Vida Dice Diagnostic Tool für Volvo
1.VOLVO DICE 2014D ist ein Werkzeug, das zusammen mit VIDA All -in -one zur Kommunikation mit Fahrzeugen verwendet wird.
2.Kommunikation ermöglicht die Diagnose und Fehlersuche sowie das Herunterladen von Software.
3.Aktualisieren über cd und mehrsprachig unterstützt
4.Unterstützen Sie Volvo -Autos nach 1999
Shipping:

Express Shipping Service


Estimated delivery time: 3-15 Days.

See details ?

Returns:

Return for refund within 30 days, buyer pays return shipping.

Read details ?

Support:
Product Details

Product's Reviews
Volvo Vida Dice 2014D Volvo Diagnostic ToolTop 3 Gründe Get the Volvo Vida Dice1.Software Version: 2014D2.Language:
Italienisch, Englisch, Französisch, Portugiesisch, Schwedisch, Japanisch, Koreanisch, Niederländisch, Russisch, Türkisch, Thailändisch, Chinesisch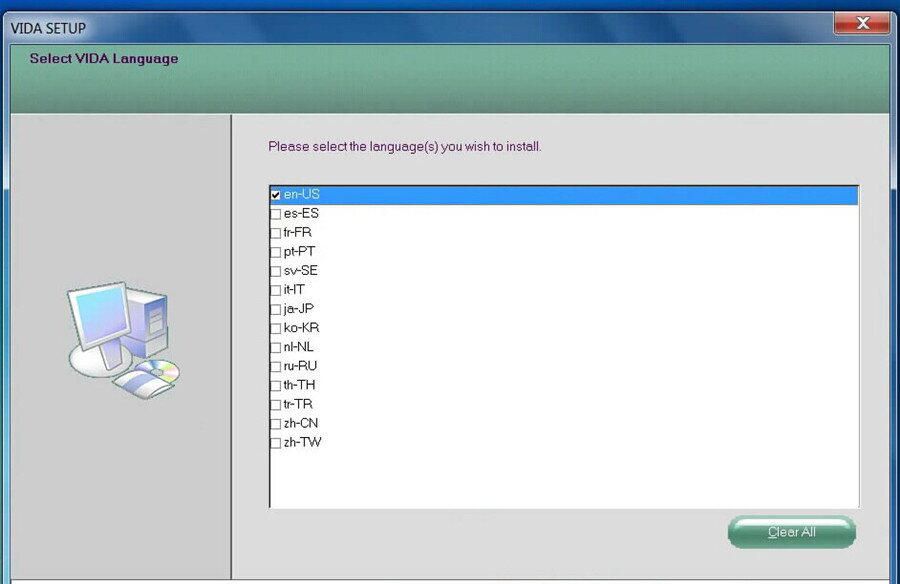 3.Nach CD aktualisierenHinweis:
1.Es unterstützt die Modelle von Volvo von 19992.Support System: nur Win73.
Unser Volvo Vida Dice unterstützt Bluetooth nicht
4.Die neuste Version von 2014D muss IE9 installieren, dann können Sie sie verwenden

Volvo Vida Dice Anforderung am Computer:
1.Es muss Windows 7 professionelles Betriebssystem sein
2.Es muss Internet Explorer 8 sein
3.Computer -Speicher benötigen über 3GRAM
4.C:// muss 40GB Platz haben
5.Software muss auf C installiert werden
Sechs.Es muss NTFS Format sein
Volvo Vida DiceBeschreibung:
1.DICE - Diagnostic Communication Equipment, ist ein Werkzeug, das zusammen mit VIDA All -in -one verwendet wird, um mit dem Fahrzeug zu kommunizieren. Kommunikation ermöglicht die Diagnose und Fehlerbehebung des Fahrzeugs, sowie das Herunterladen von Software.
2.DICE verfügt über ein integriertes CARB -Kabel, das an die Diagnose -Steckdose des Fahrzeugs angeschlossen ist.Beim Anschluss an das Fahrzeug wird DICE so lange betrieben, wie die Batterie geladen ist.
3.DICE verfügt über einen Klapphaken, der zum Beispiel zum Aufhängen des Gerätes an einem der Griffe im Fahrzeug ausgelegt ist.
4.DICE ist mit vier StatusLEDs ausgestattet, die den Status der Software, die USB - und
Bluetooth
-Kommunikation und die Schnittstelle zum Auto anzeigen.
5.An einem Ende des Gerätes gibt es einen DC Eingang, an dem ein Batteriekabel oder Adapter (12V) angeschlossen werden kann.Der Adapter wird bei der Aktualisierung und Fehlerbehebung des DICE eingesetzt.
6.Am anderen Ende des Gerätes befindet sich ein abnehmbarer Deckel, der durch Drehen der Schraube auf dem Deckel entfernt werden kann.
Volvo Vida DiceFunktion:
1.Verwaltung - Allgemeine Informationen, Gestaltung und Funktion
2.Standardkomponenten, Servicematerialien und Verbrauchsmaterialien.Allgemeine Informationen (u.a. Steuerungsmodule,
SRS
, allgemeine Sicherheit)
3.Service und Wartung
4.Motor mit Montage und Ausrüstung
5.Elektrisches System
6.Energieübertragung
7.Bremsen
8.Aufhängung und Lenkung
9.Federn, Stoßdämpfer und Räder
10.Karosserie und Innenausstattung u.a. Diagnose, Design und Funktion, Reparatur - und Ersatzteilinformationen
11.Andere Spezialfahrzeuge, z.B. Krankenwagen, Polizeiwagen.Bauteile, die vom Standard abweichen.
Volvo Vida DiceTipps zur Installation:
1.,Choose the languages:[EN-GB...], install it to list, till all installations finished ,then restart the computer.">Führen Sie die CD -ROM,<\Install \DVD \Vida Kombi \Main \setup.exe >,Wählen Sie die Sprachen:[EN -GB...], installieren Sie sie, bis alle Installationen fertig sind, dann starten Sie den Computer neu.
2.Nach dem Neustart ist das Servicesymbol (der untere Rand der rechten Ecke) verfügbar (VIDA Status: Running), und wählen Sie die unten gekackten Ausführungsdokumente [VIDEA2014A u patch.EXE], installieren Sie es in die Liste, dann wiederholen Sie den Computer.
Name des Benutzers
: admin
Volvo Vida DiceListe der Pakete:
1.Würfel -Gerät mit
OBDII
-Kabel
2.USB A bis MINI USB Angled Cable
3.DVD mit Vida 2014D Englisch (aktiviert)
4.Version We offer now: VIDA 2014D English (Locally Activated, No Online Services; Login as "Info -pc")