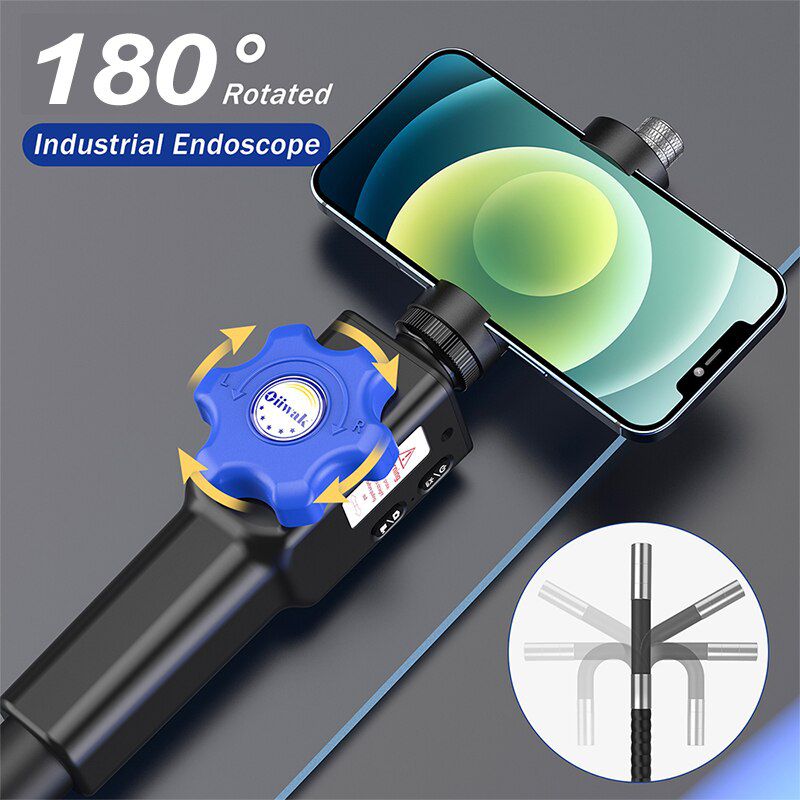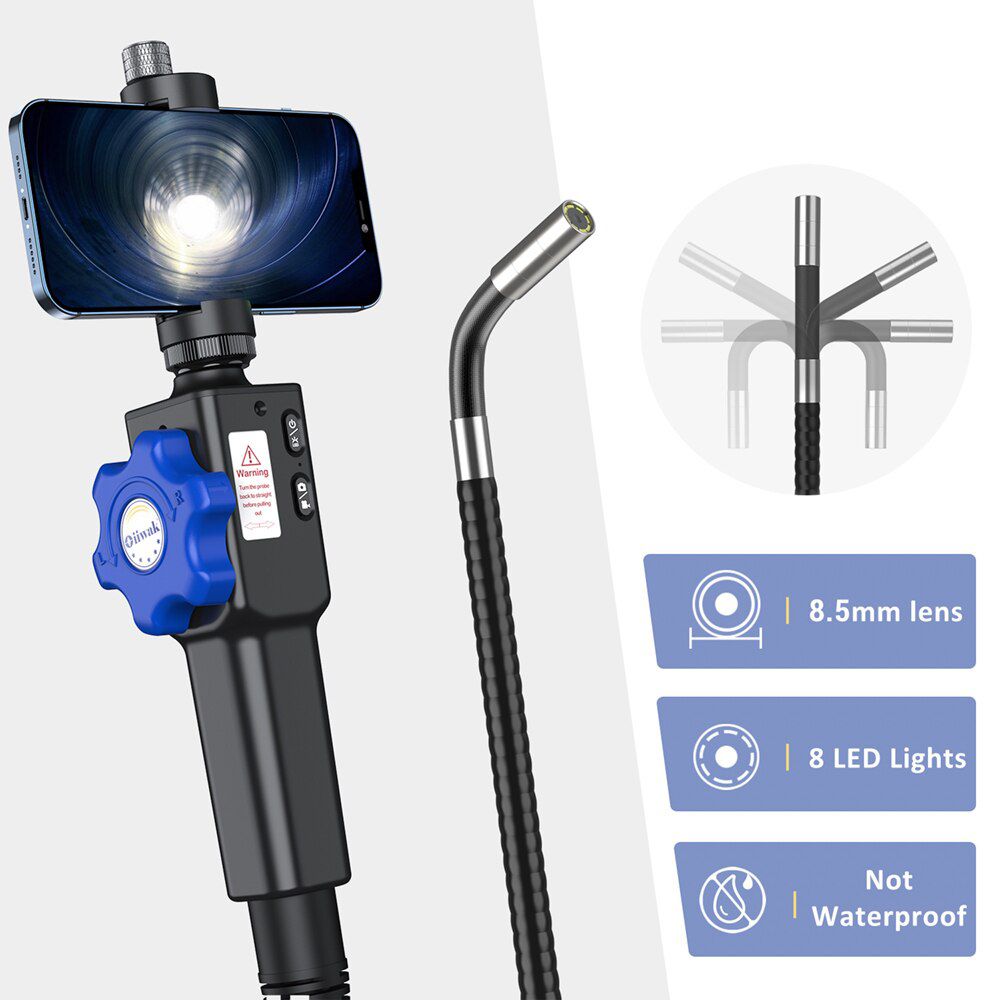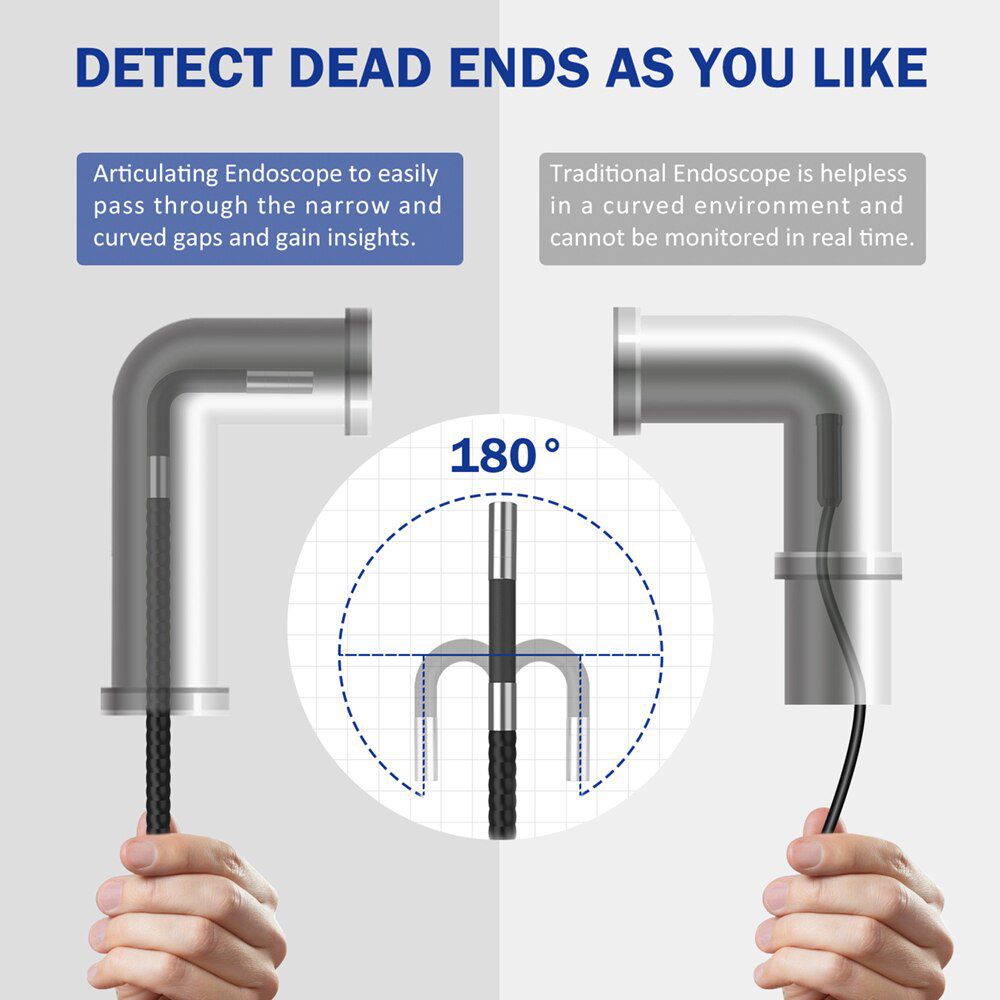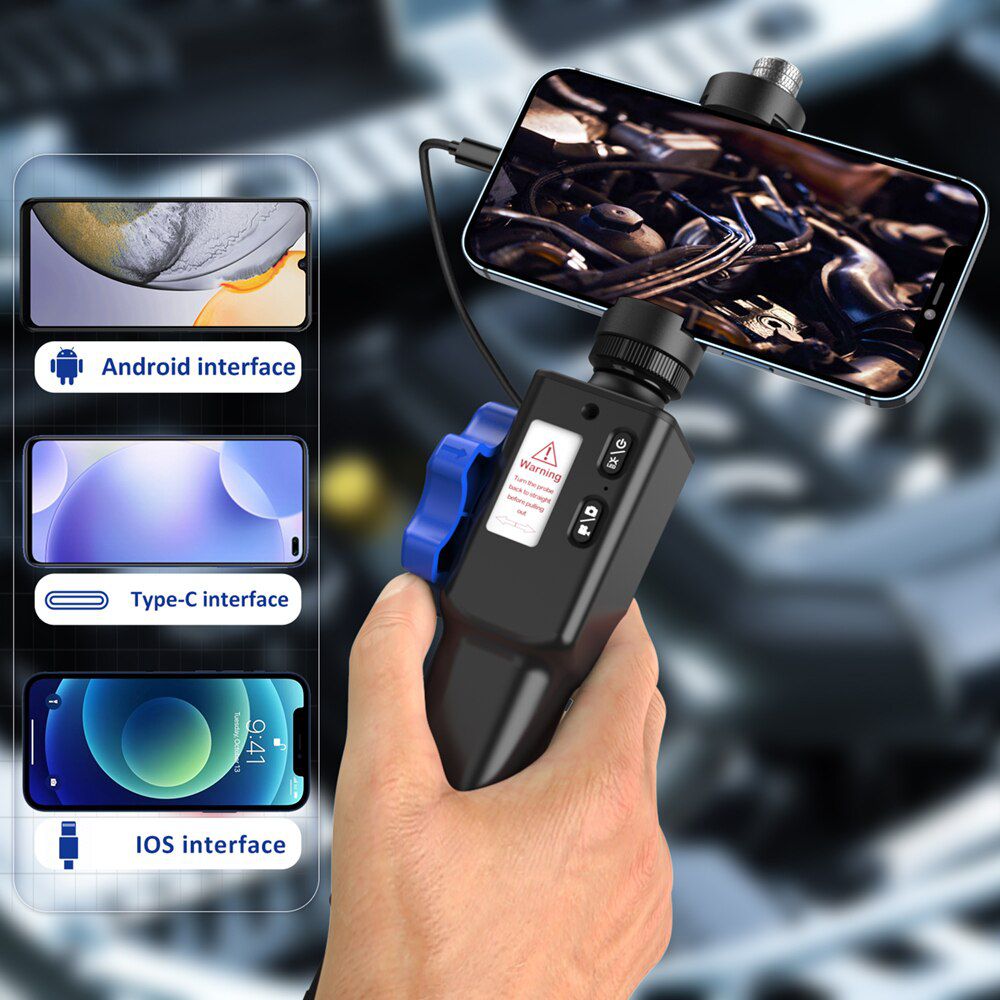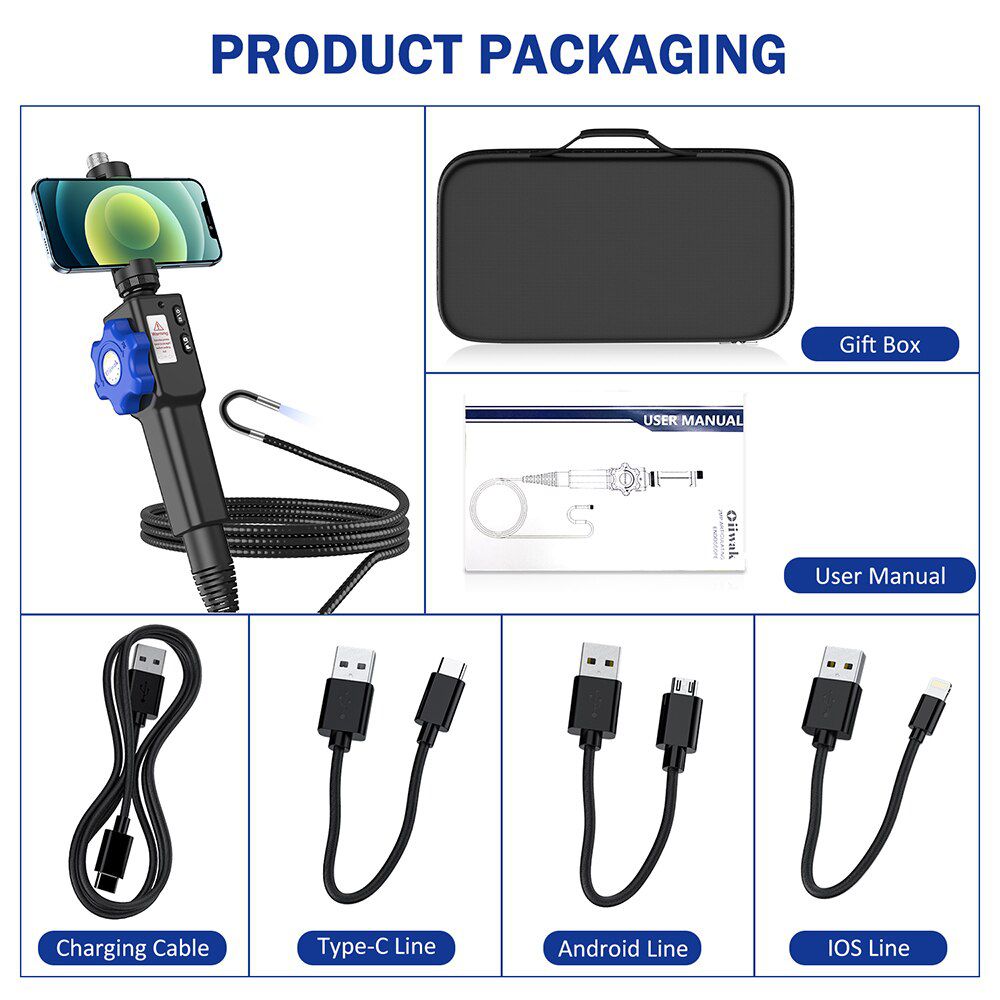 8.5MM Car Endoscope Kamera 180 Degree Steering Industrial Endoscope Inspection Camera for Car 8 LED für iPhone Android PC
8.5MM Car Endoscope Kamera 180 Degree Steering Industrial Endoscope Inspection Camera for Car 8 LED für iPhone Android PC
Shipping:

Airmail Post


Estimated delivery time:

7-45

working days.

See details?

Returns:

Return for refund within 30 days, buyer pays return shipping.

Read details ?

Support: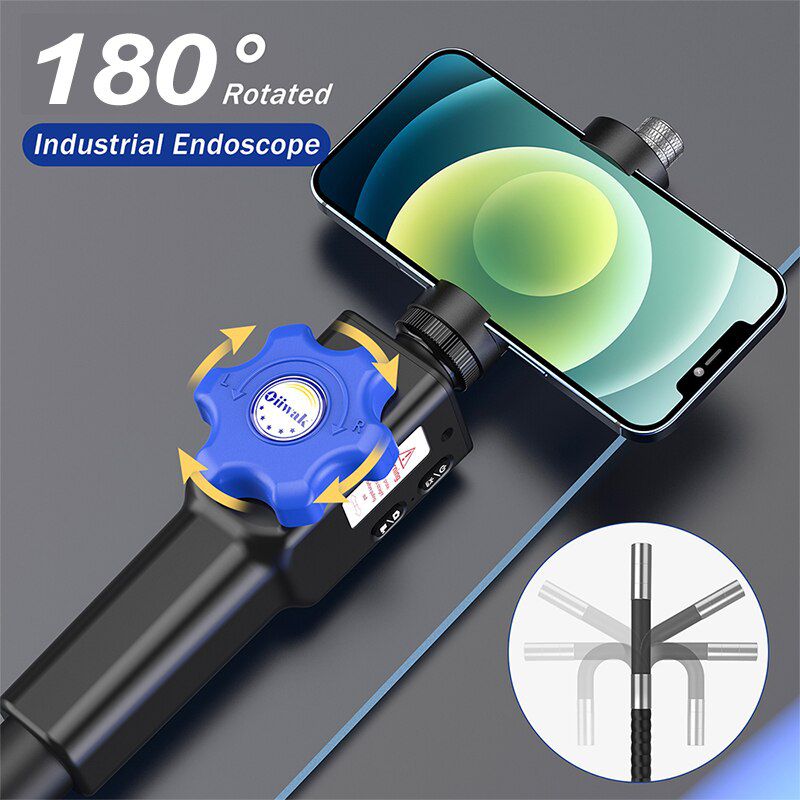 Product Details

Product's Reviews
8.5MM Industrial Endoscope 180 Degree Steering Inspection Camera mit 8 LED für iPhone Android PC
Dieses Car Endoskope hat eine einzigartige Temperaturschutzfunktion und ist mit einer zweiseitigen 180-Phantomerkennungsfunktion ausgestattet, die es den Benutzern ermöglicht, kleine Sonden in einen kleinen Raum zu nehmen und lebhafte, klare und Rund-um-Video und Bilder an das Mobiltelefon über das Kabel zu übertragen und auf dem Bildschirm zu zeigen.

Mit erweitertem Zubehör und Echtzeit-Temperaturanzeige erfüllen Sie Ihre vielfältigen Prüfanforderungen.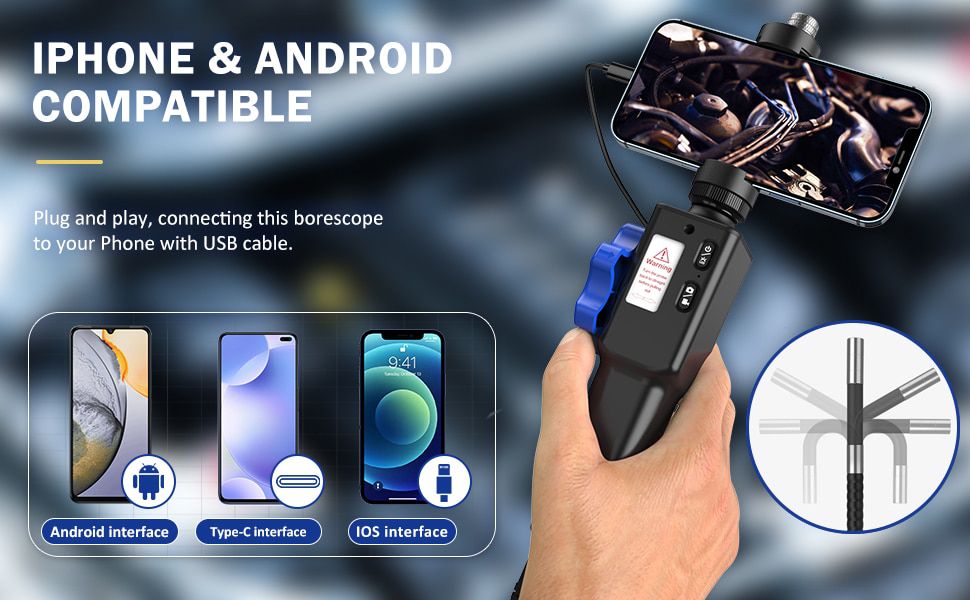 Industrielle Video Inspection Camera Feature
1.[Steerable Sonde]
Artikulationsbiegsamkinkel: 0-Inzidenz-176bis 180-Ineinanderliegend; stufenlos einstellbar und in jedem Winkel verriegelbar.Sehr einfache Bedienung: Drücken Sie einfach den Auslöseknopf mit dem Daumen, um das Drehrad einzustellen.
2.0 MP HD Kamera Objektive
1920 *1080 High Resolution, High-Definition & hoher Kontrast, Wiederherstellung der realen Szene.
3.[Easy-to-use Handle]
Es kann Fotos machen und Videos mit einem Schlüssel aufnehmen, einfach zu bedienen.
4.[Lens Funktion]
Support photographing and video recording function.Takes still photos and record videos in real time, to save pictures and videos and output later.
5.[Intelligenter Hochtemperaturschutz]
Kombi 1771 0a84511; Temperatursensorgenauigkeit, schnelle Reaktion auf die Umgebungstemperatur.Es wird automatisch aufhören zu arbeiten, wenn die Temperatur die 70-OP8451;, spielt eine wichtige Rolle beim Schutz der Linse.
Sechs.[Automatische Erzeugung des Erkennungsberichts]
Lesen Sie das Benutzerhandbuch, laden Sie die APP herunter und klicken Sie auf "Dateiauswahl", um ein Bild mit "750 *87" Pixeln für die Erstellung des Nachweisberichts einzufügen.
7.[Power Saving]
Geringer Stromverbrauch, und mit eingebauter Lithium-Batterie 2200mAh ist die Lebensdauer bis zu 120 Minuten nach dem Aufladen für eine Stunde.
8.[1m Snakelike Tube]
Richtige Länge & weicher Draht, flexibel zu inspizieren.
Neun.[Ausgestattet mit 4 USB Kabel]
Ausgestattet mit 4-USB-Kabel mit verschiedenen Schnittstellen können Sie wählen, welche Sie beliebig verbinden möchten.
Zehn.[Breite Anwendung]
Geeignet für 3.5-Zoll bis 6.3-Zoll-Bildschirmmobiltelefone, die in verschiedenen Bereichen wie Industrie, Automobilreparatur, Pipelineinspektion, Klimainspektion usw. zusammen eingesetzt werden können.
Bitte beachten Sie:
1.Bitte lesen Sie das Benutzerhandbuch vor der Benutzung.

2.Dieses Produkt ist NICHT wasserdicht.Bitte vermeiden Sie die Verwendung in feuchter Umgebung oder tauchen Sie in Wasser ein.

3.Diese Art von Endoskop wird speziell zur Erkennung von Automotoren eingesetzt.Es wird nicht empfohlen, es in Wasser oder Öl zu verwenden, um die Wirkung nicht zu beeinflussen und Schäden an dem Produkt zu verursachen.
Spezifikationen
Sonde Durchmesser: 8,5mm
Sondensor: 1/5"CMOS
Winkel der Sonde (FOV): 60-Ebene-176;
Tiefe des Feldes (DOF): 45-70mm
Rotierender Winkel der Sonde: 180 im Bereich der Injektive 176;
Video Resolution: MP4(1920*1080)
Bildauflösung: JPG(1920*1080)
Beleuchtungsmodus der Sonde: 8 helle LED-Leuchten
Manuelle Dimmung:insgesamt;
Stromversorgung: wiederaufladbare Lithium-Batterie 2200mAh
Arbeitszeit: ca. 120 Minuten
Arbeitstemperatur: -10~70~
Länge der Snake Tube: 1m
Snake Tube Material: Flexibel Mental
Anwendbare Handy-Größe: 3.5-Zoll ~ 6.3-Zoll-Bildschirm
Größe: ca. 5.5*4.5*120cm /2.17*1.77*47.24in
Gewicht: ca. 332g / 11.71oz
Packungsgröße: ca. 43*22*9cm / 16.93*8.66*3.54in
Gewicht der Packung: ca. 1180g /41.62oz
Wie zu verwenden?
1.Connect Telefon

2.Download "Finder Borescope"APP

3.Open App zeigt Bild

4.Drehwinkel kann das Objektiv drehen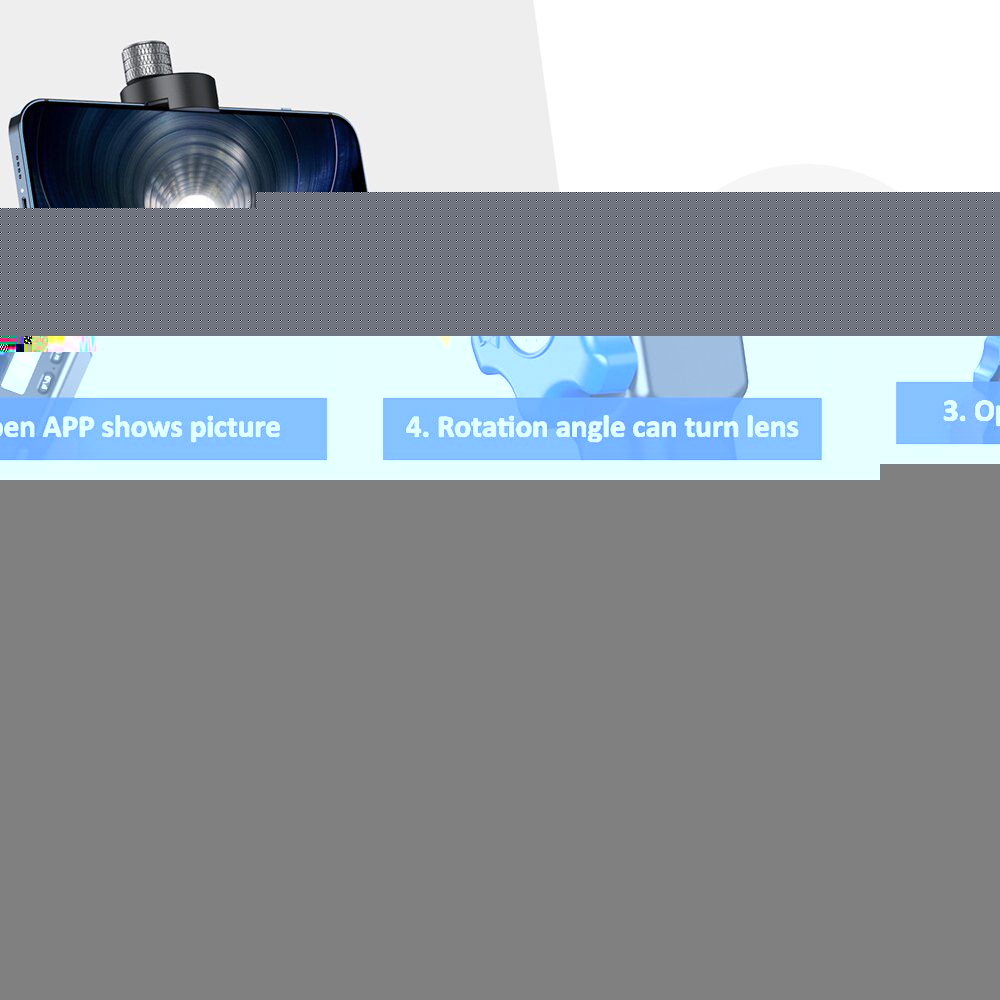 180 $176; Rotate Industrial Endoskop
Kann manuell durch 180-Kombidrehscheibe eingestellt werden; in beide Richtungen mit Drehteller.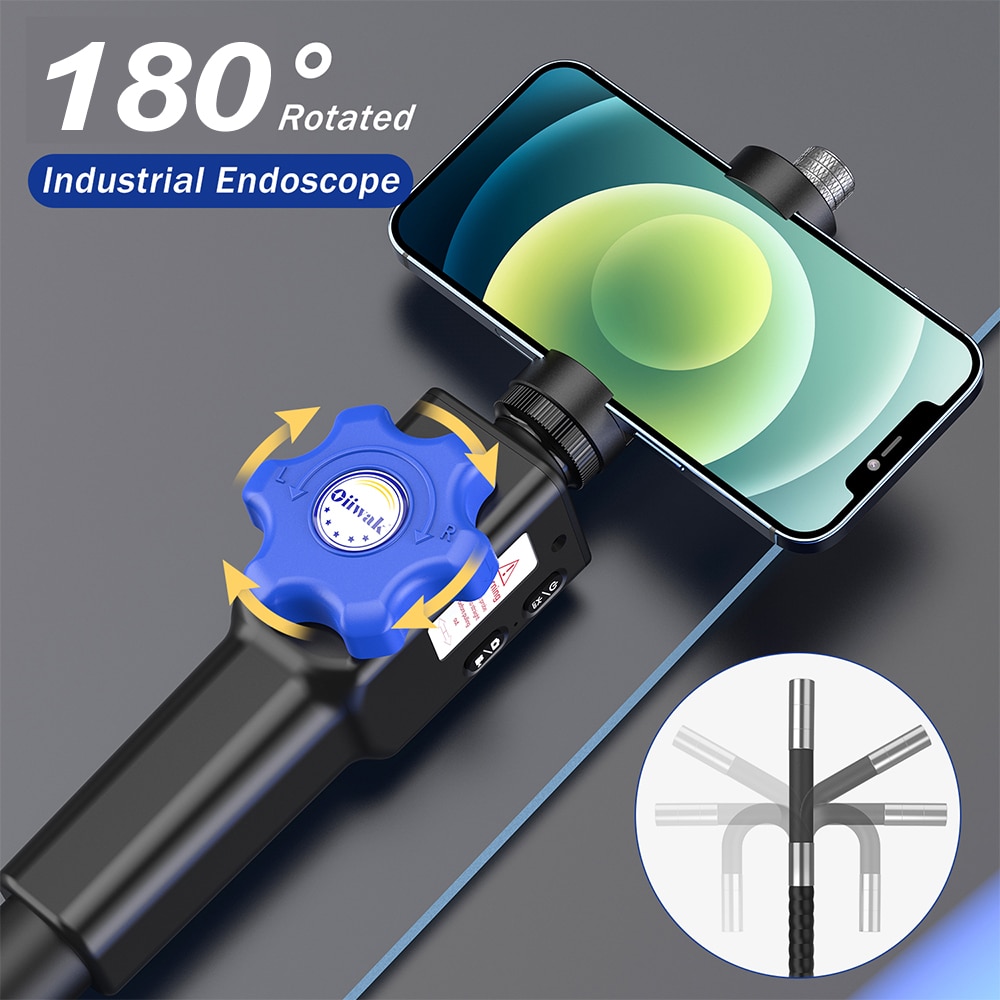 Finde Dead Ends, wie du willst
Articulating Endoscope, um leicht durch die engen und gebogenen Lücken zu gehen und Einblicke zu gewinnen.

Das traditionelle Endoskop ist in einer gewölbten Umgebung hilflos und kann nicht in Echtzeit überwacht werden.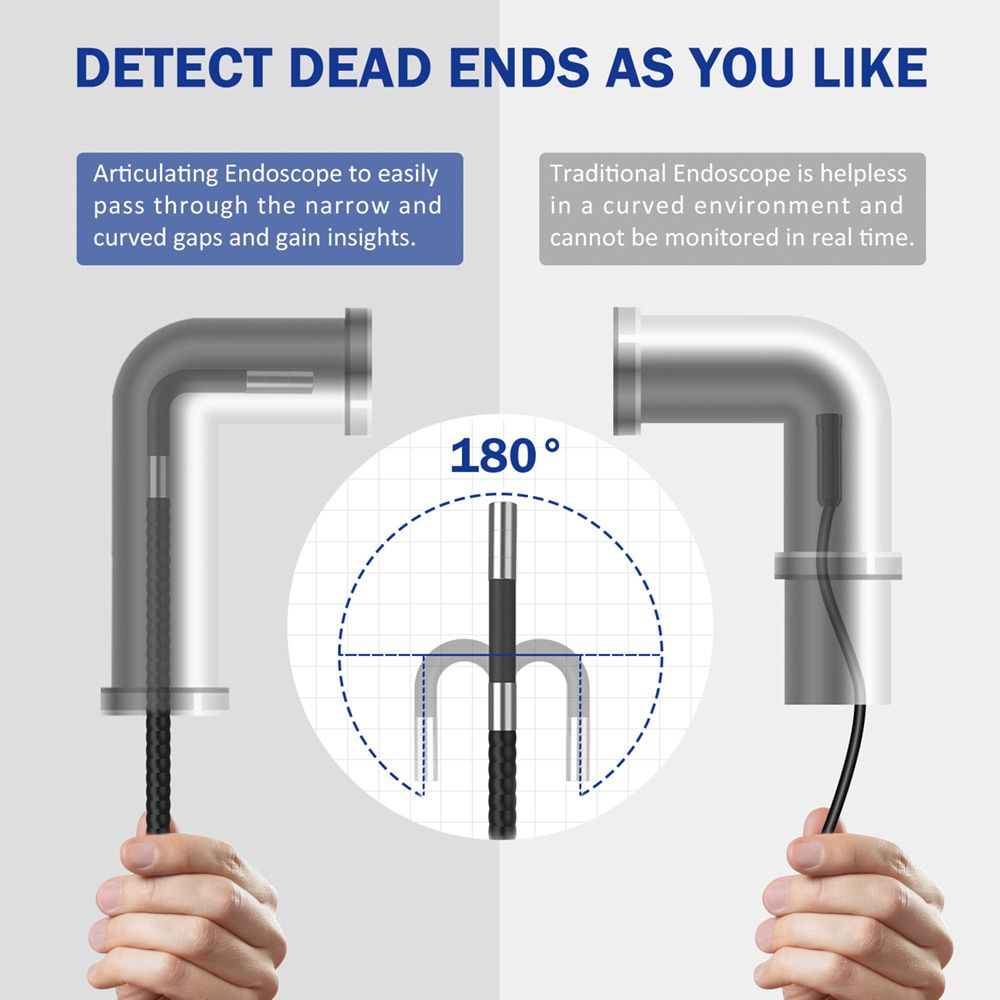 1080P HD Endoskop mit 8,5mm Objektiv
Oiiwak Endoskop-Überwachungskamera mit 2-Millionen Pixel-Kamera-Objektiv mit 1080P Auflösung ausgestattet, die super klare und hochwertige Videos und Bilder bietet als andere.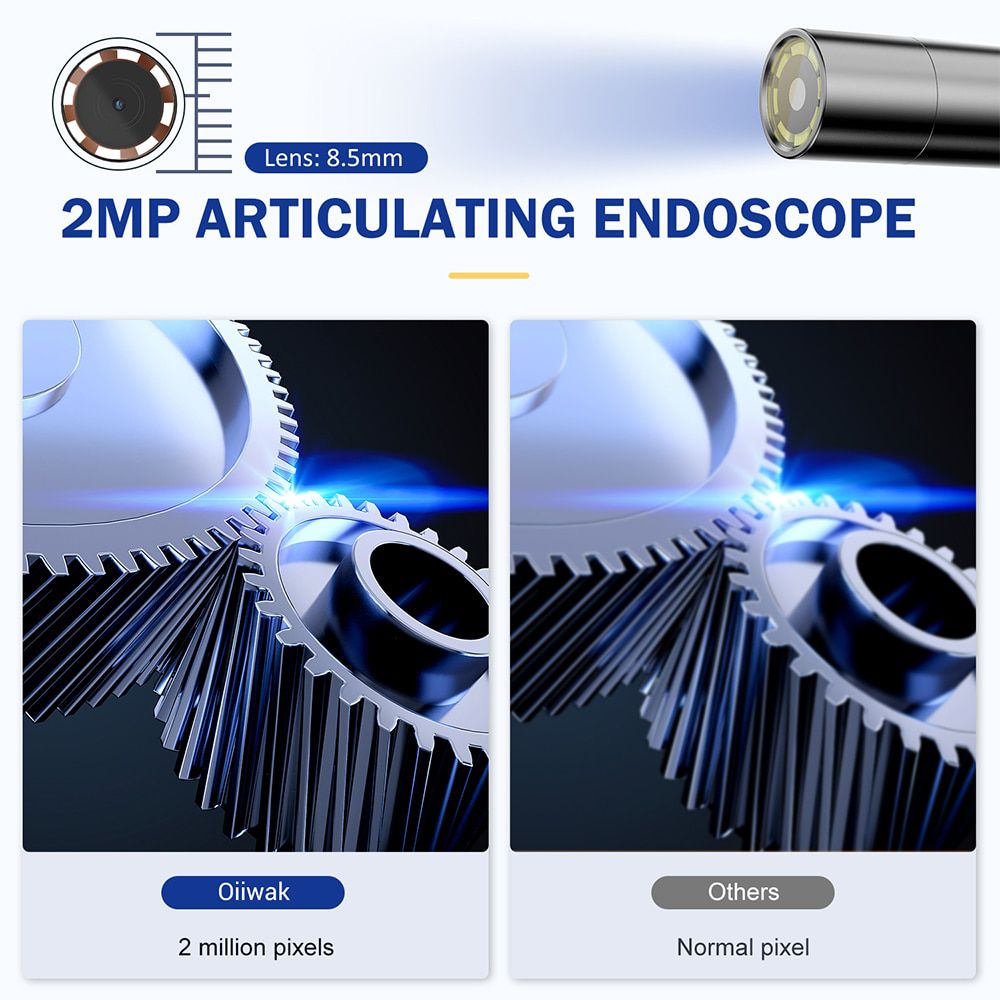 8 LED Leuchten
Mit einstellbaren LED-Leuchten kann das Endoskop in dunklen und engen Bereichen eingesetzt werden, um die Klarheit von Bild und Video zu gewährleisten.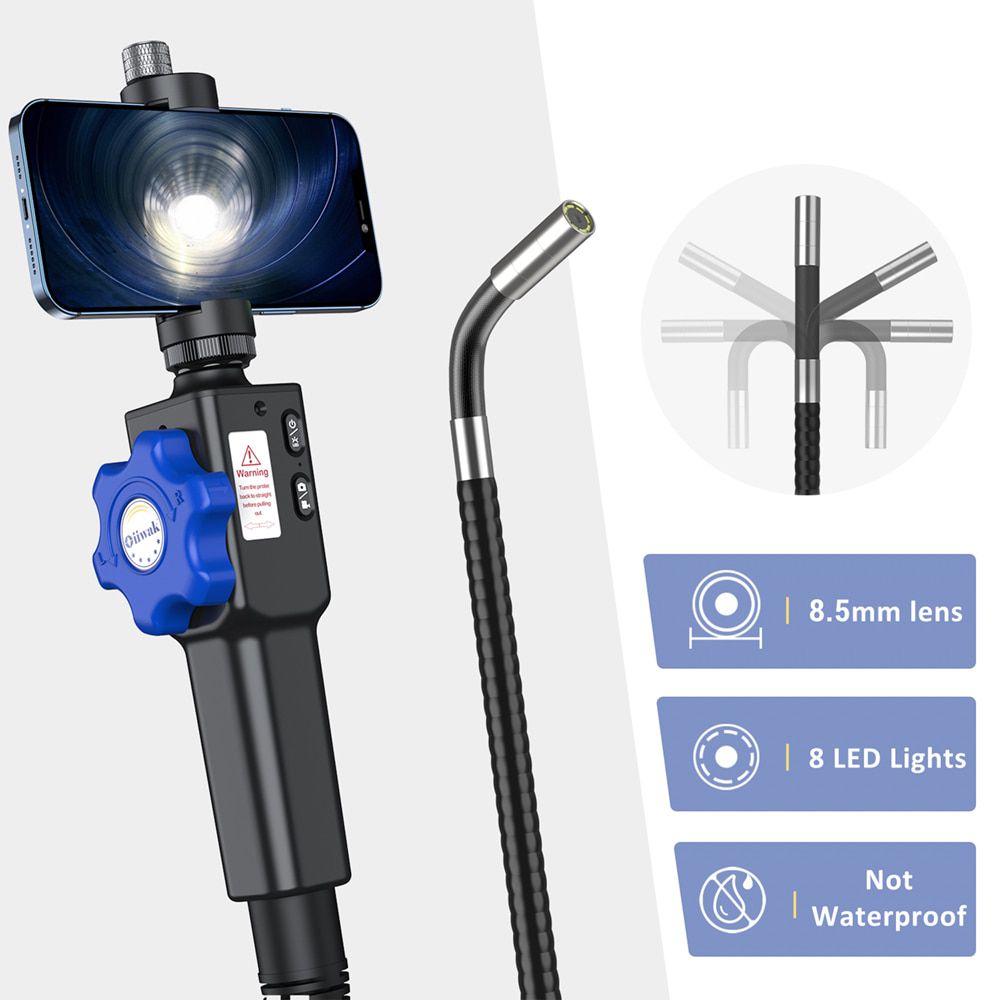 Nicht wasserdicht
Die Spitze der Sonde ist nicht wasserdicht, bitte nicht in Wasser einweichen.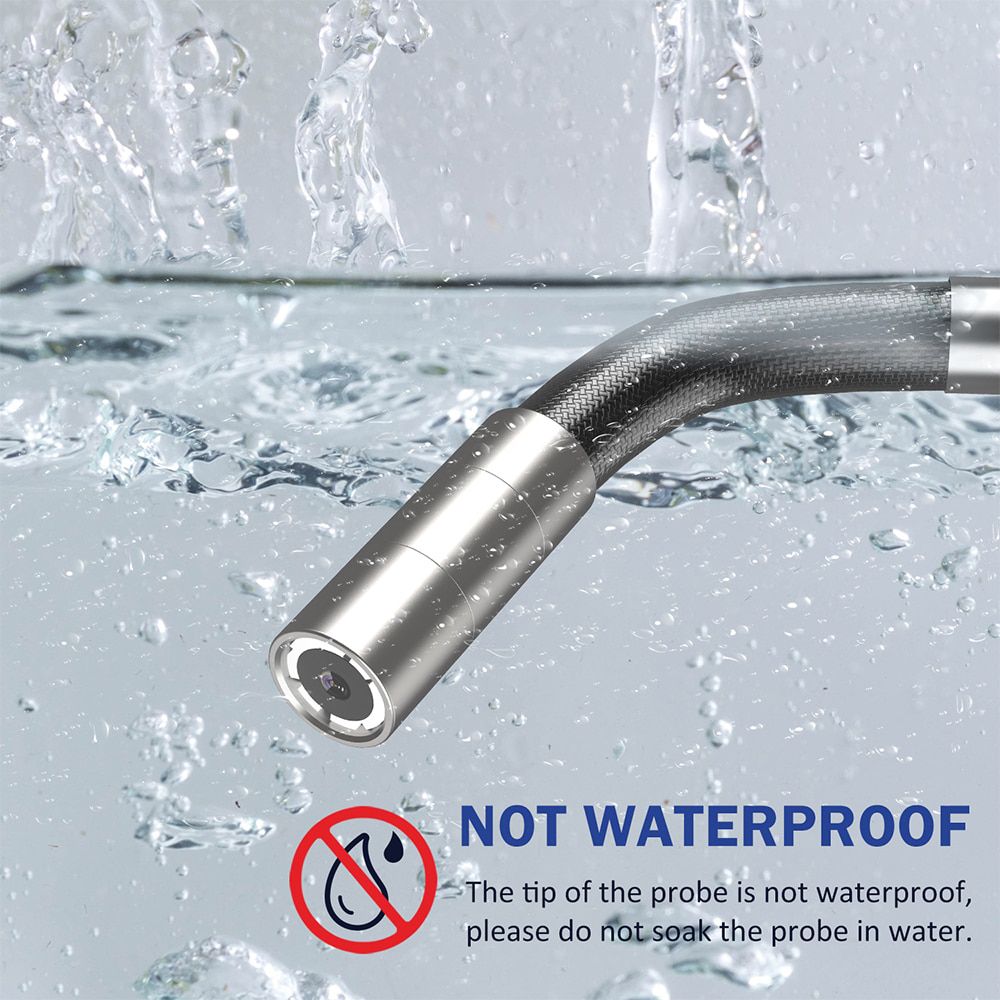 Akku aufladbar
Annahme der Kapazität 2200mAh Batterie, Arbeitszeit bis zu 3-4 Stunden.
Weitere Details
1, Horizontale Metallhalterung
2, Flexibler Drehwinkel 180-Volldrehwinkel
3, Button für Fotos/Videos
4, Schutzvorrichtung für Sonde
5, flexible Spule
6, hochsensible Lenkvorrichtung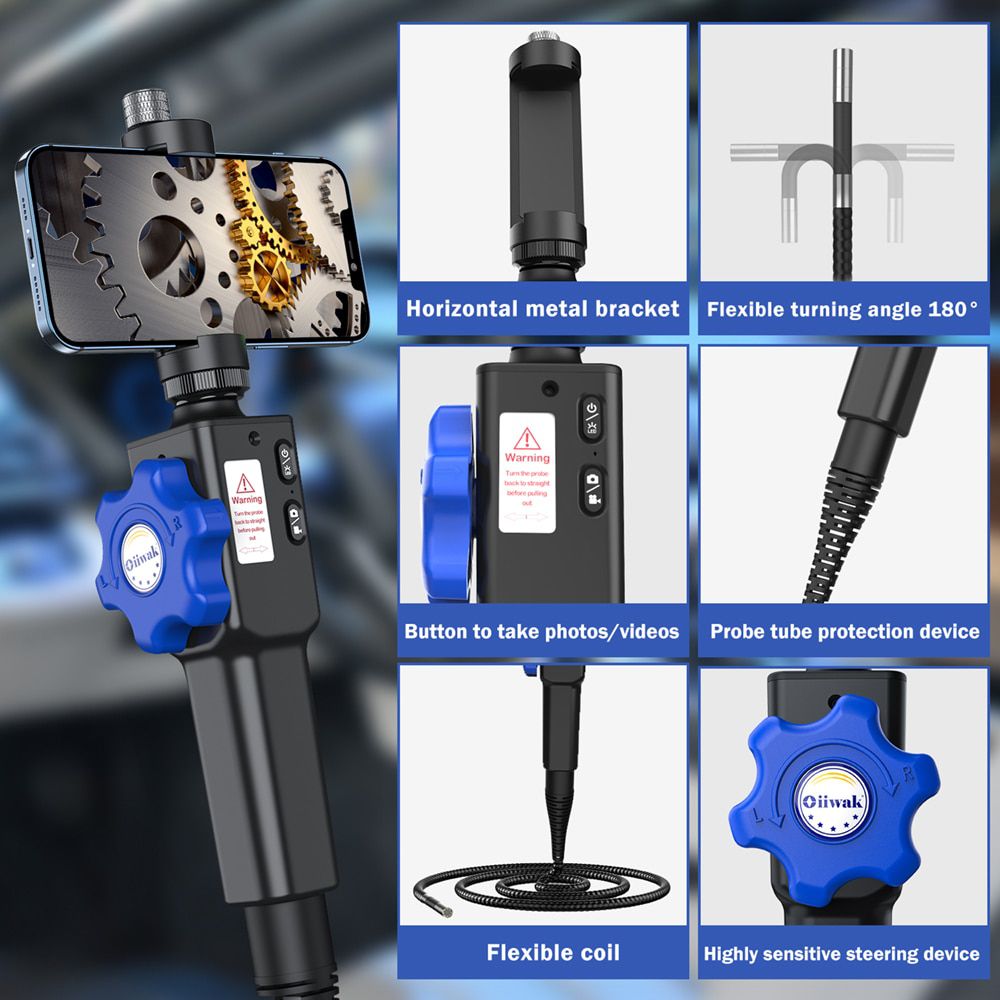 Artikulierendes Endoskop
Oiiwak-Endoskop ist ein ausgezeichnetes Instrument zur Inspektion von Orten, die nicht mit bloßem Auge zu sehen sind.Er wird weithin in Bereichen wie Autowartung, mechanische Inspektion, Rohrreparatur, Hausgerätinspektion, Wandstrukturinspektion usw. eingesetzt.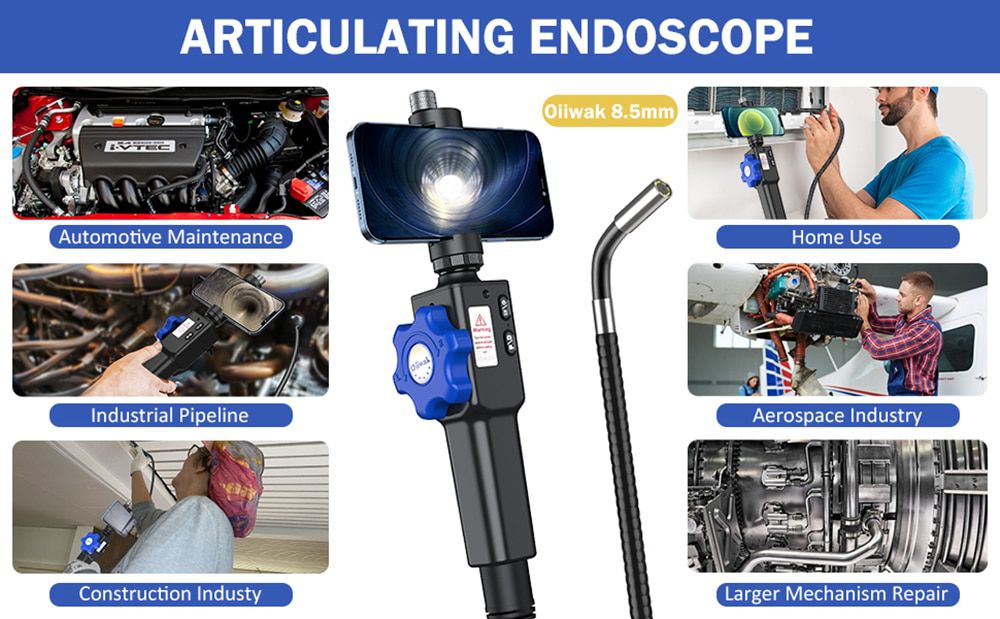 Verpackung des Produkts
1 x 8.5mm Endoskop
1 x Geschenkbox
1 x Benutzerhandbuch
1 x Ladekabel
1x Typ-C Line
1 x Android Line
1x IOS Line