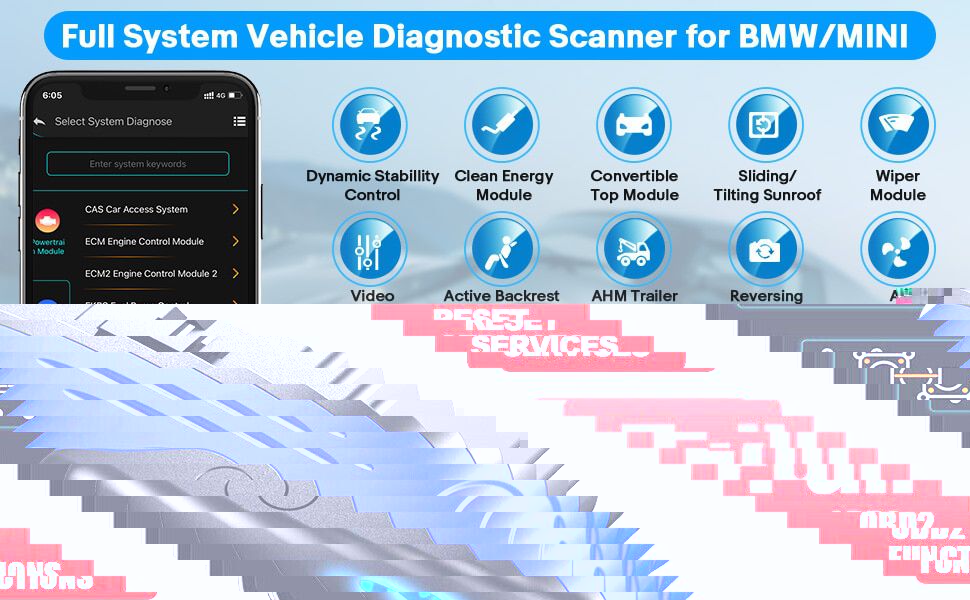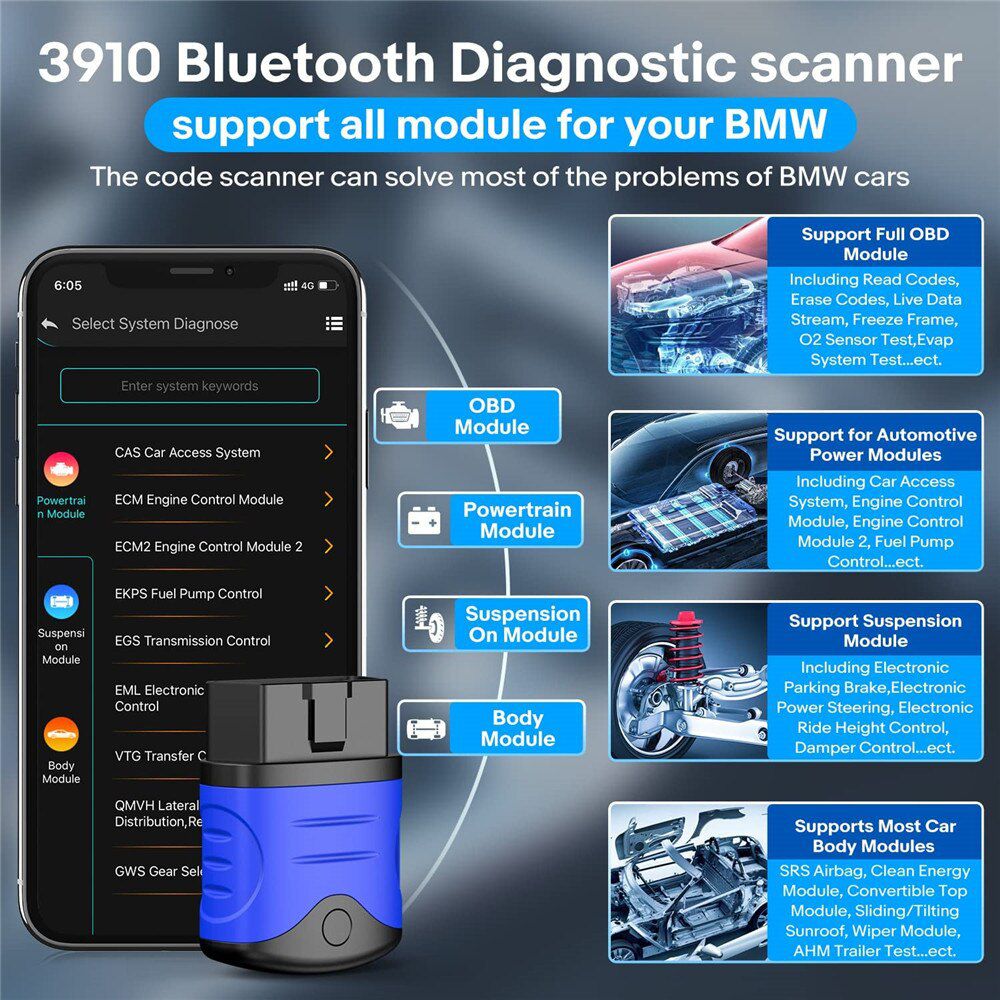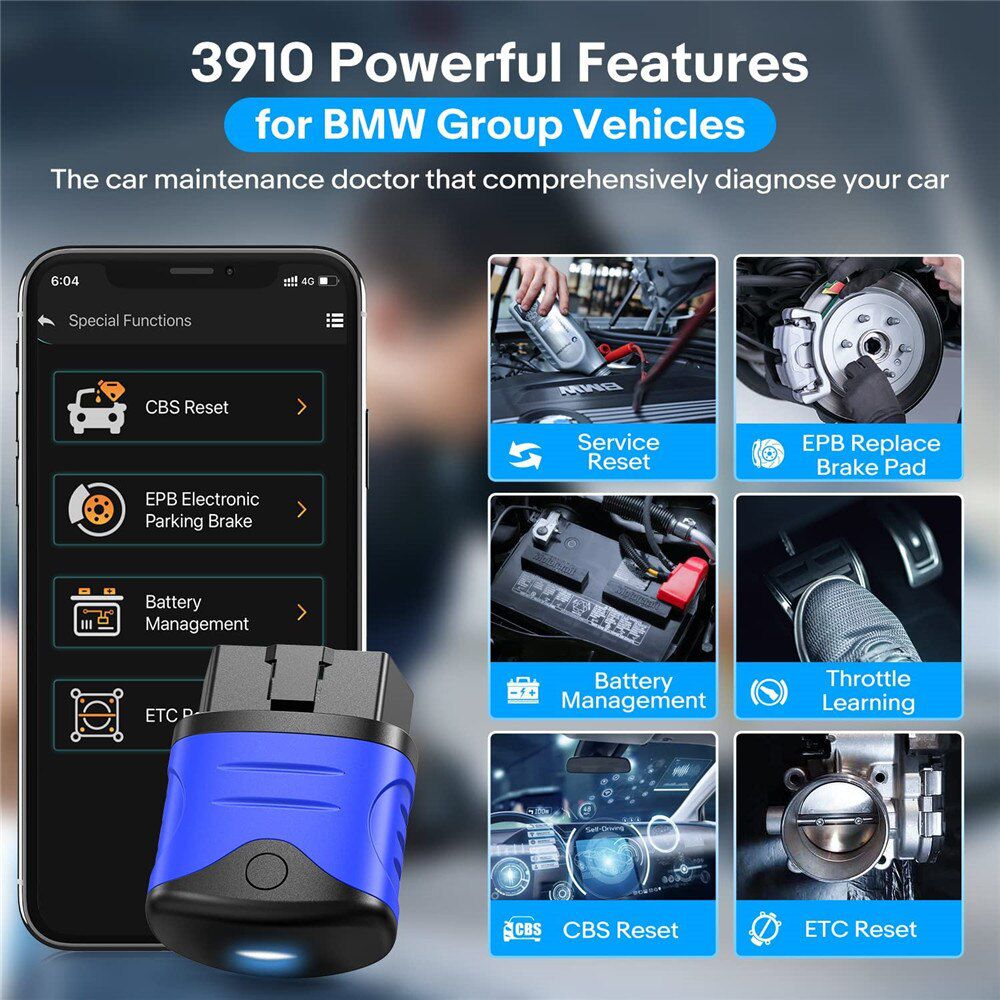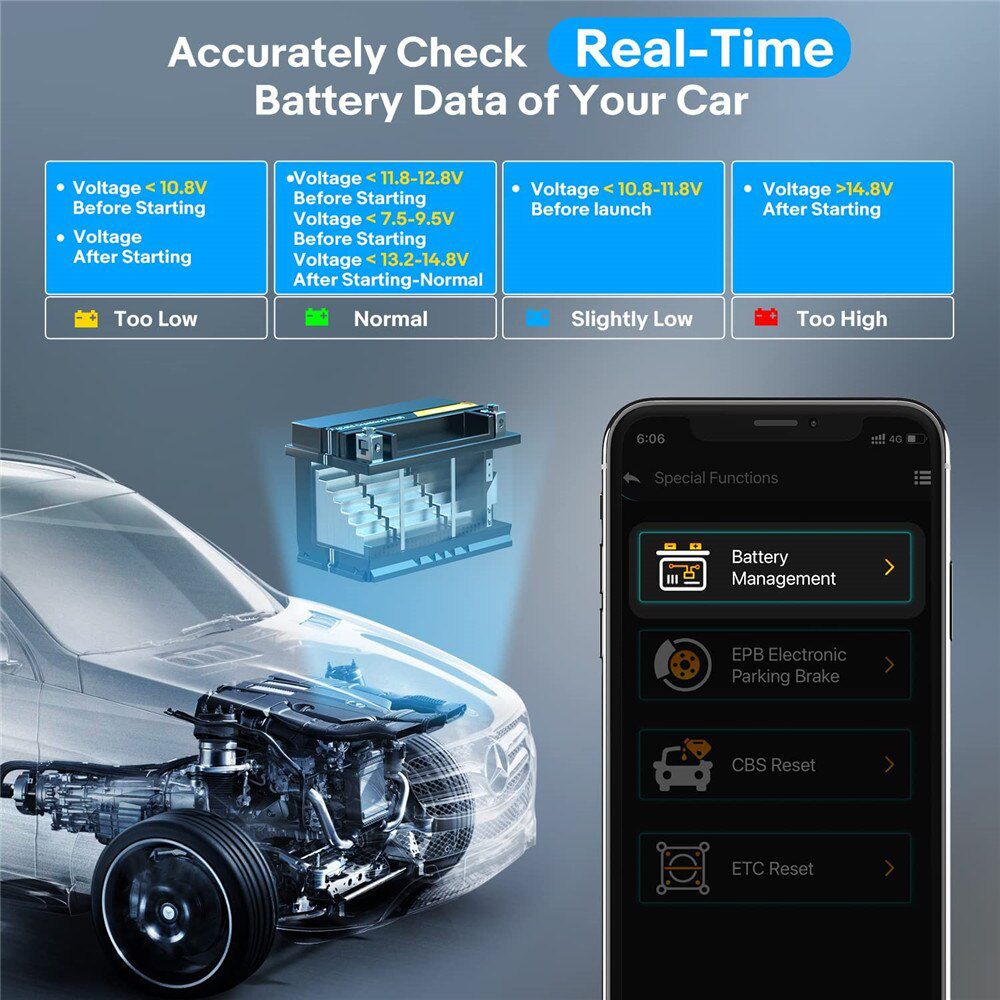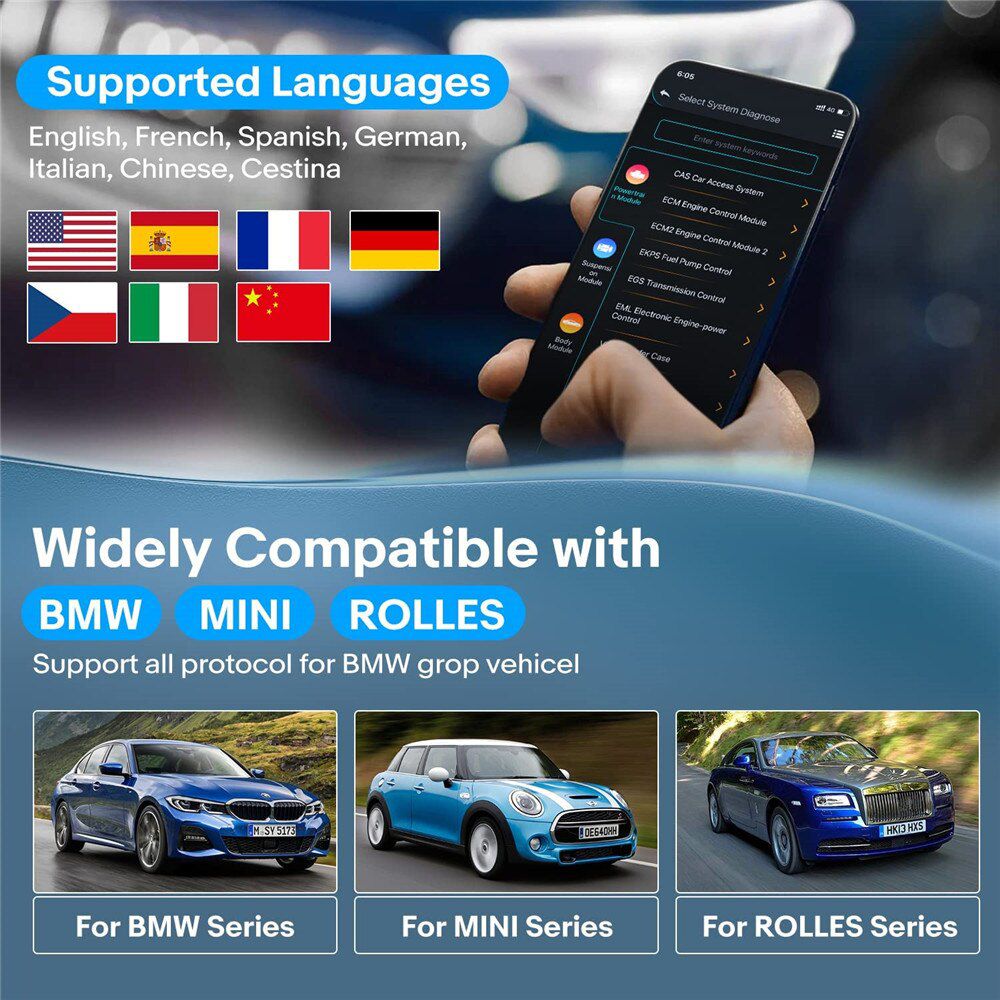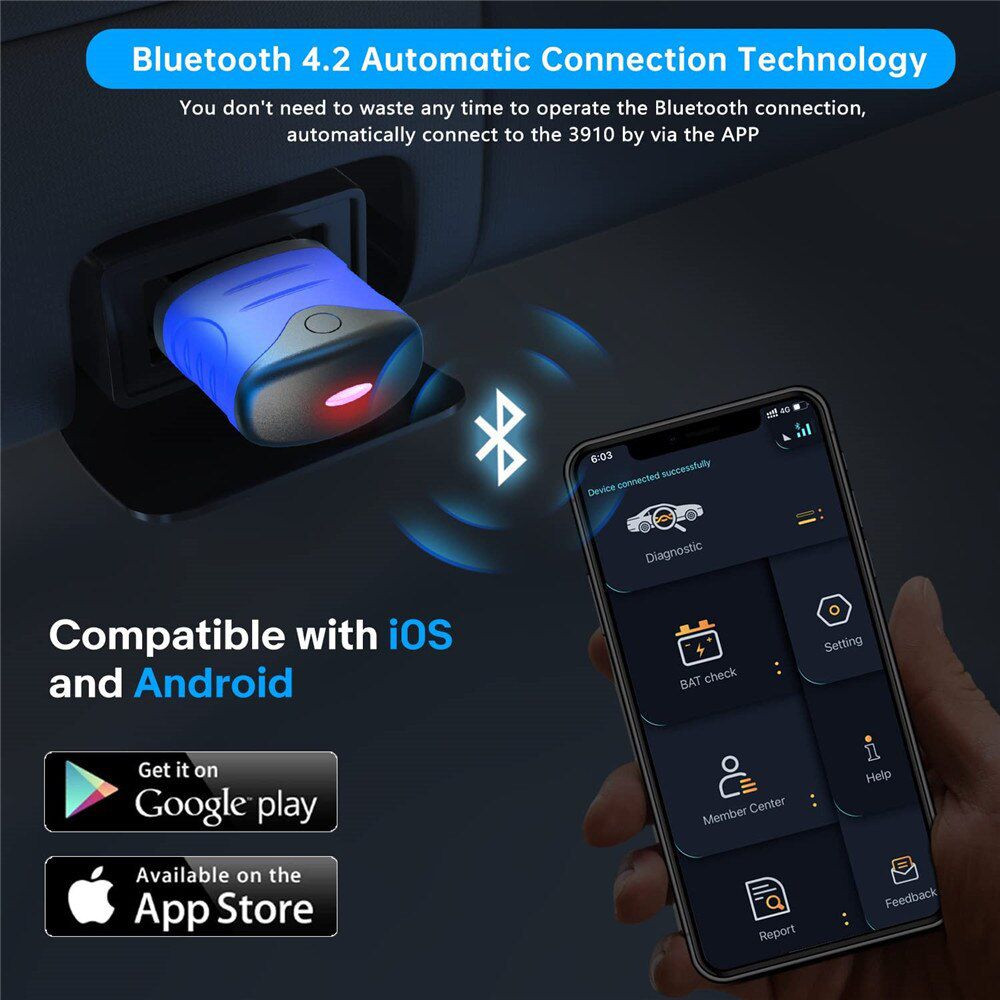 AUTOPHIX 3910 Bluetooth OBD2 Scanner for BMW/MINI/Rolls Royce Car Diagnostic Scan Tool EPB CBS ETC Battery Check Throttle Learn
EPB Reset: Reset the calipers, brake discs or pads after the electronic parking brake system is repaired;, wholesale AUTOPHIX 3910 Bluetooth OBD2 Scanner.
Shipping:

Express Shipping Service


Estimated delivery time:

3-15

working days.

See details ?

Returns:

Return for refund within 30 days, buyer pays return shipping.

Read details ?

Support: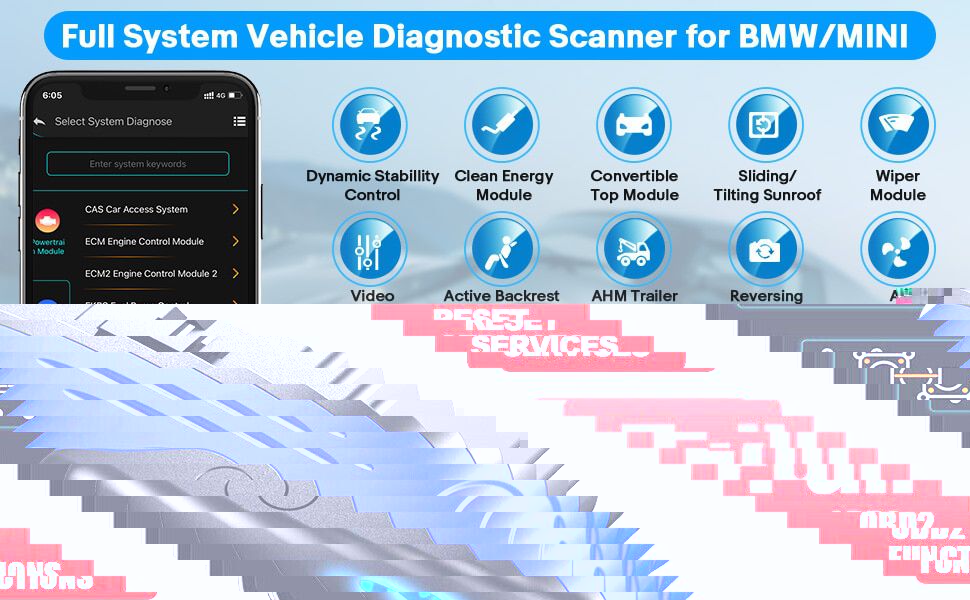 Product Details

Product's Reviews
This AUTOPHIX
Bluetooth
/Wireless Diagnostic Tool's Philosophy: Easy, Fast and Powerful
AUTOPHIX 3910 has developed this scan tool to meet industry demands for diagnosing and repairing virtually any vehicle on the road today. It strives to make automotive repairs easy, efficient, accurate, and affordable for do-it-yourself to professional-level technicians.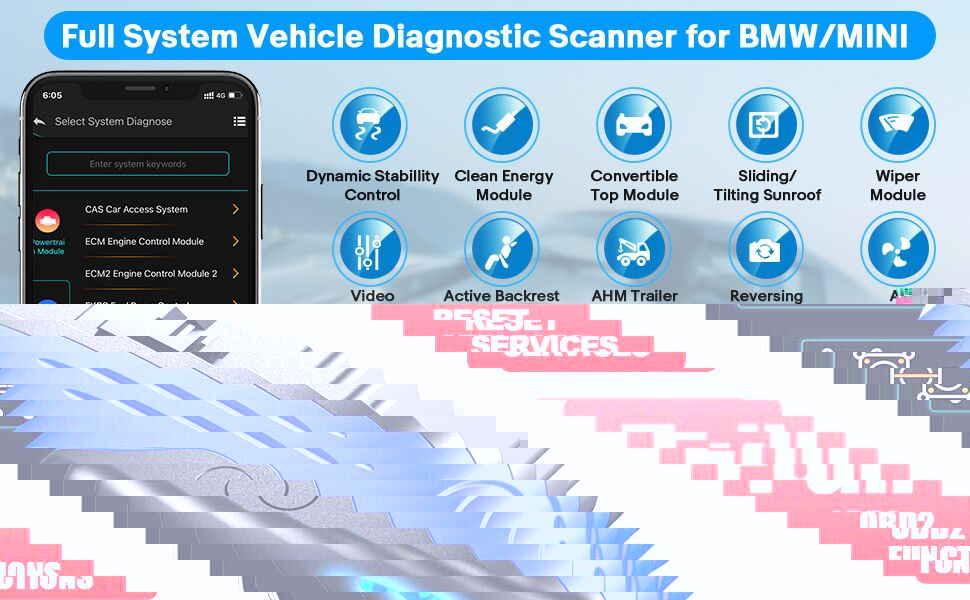 1. Full
OBDII
functions: Read Codes, Erase Codes, Live Data Stream, Freeze Frame, O2 Sensor,I/M Monitor Readiness, Evap System Test, Retrieves Vehicle Information;
2. EPB Reset: Reset the calipers, brake discs or pads after the electronic parking brake system is repaired;
3. BMS Reset: Reset after replacing the battery to clear the low battery fault information of the original battery and protect the new battery;
4. Immobilizer: Disable a
lost
vehicle key to protect the vehicle from being stolen and add the new key;
5. ABS Bleeding(Top Popular): Perform to bleed the brake system to restore
ABS
braking sensitivity and obtain a firm brake pedal;
6. SAS Adjustment: Clear the fault steering angle sensor memories, perform reset steering angle sensor, and turn off steering wheel warning light;
7. Throttle Relearning: Reset the throttle actuators to accurately regulate throttle (or idle
engine
) operations, helps keep your idling and acceleration smooth;
8. Airbag Repair: After replacing the Airbag, reset the Airbag data and clear the collision data;
9. Oil Light / Service Reset: Allows you to reset the service lamps on the instrument cluster;
10.
Tire Pressure Monitor
ing System (TPMS) Programming: Allows you to check the tire sensor IDs from the vehicle and to perform
TPMS
programming and reset after tires sensors are replaced or rotated.
Pro-quality full Systems Diagnostics
OBD2
Scanner for VAG vehicle group
As an enhanced
OBD2
scanner Compatible with
BMW
/ MINI/ Rolls Royce, AUTOPHIX 3910 will serve you well with necessary features, being a wonderful option for DIYers, car enthusiasts, and mechanics as well.
Get a real pro-quality automotive diagnostic scan tool that has everything you expect: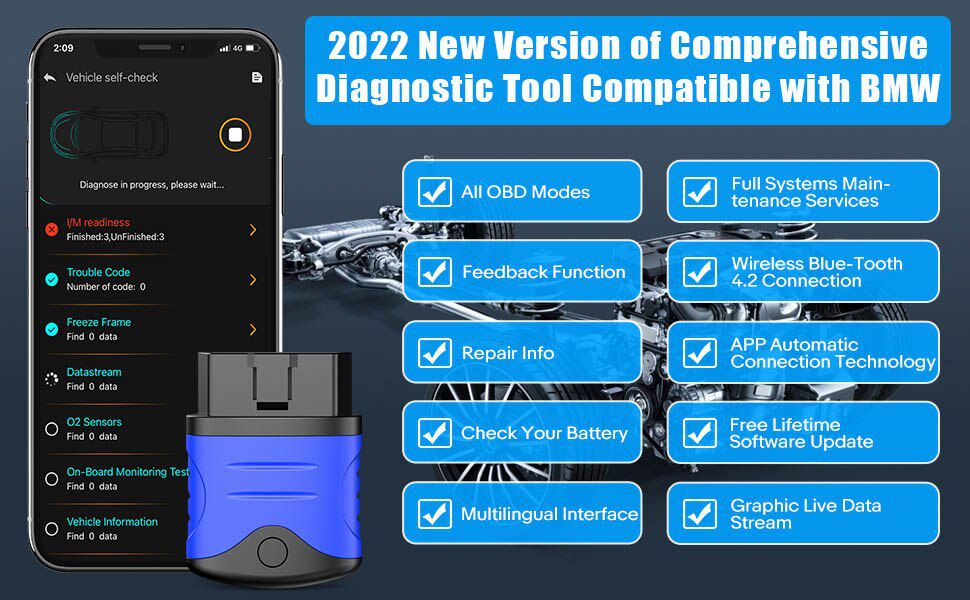 1. An affordable diagnostic scanner with deep detection on Powertrain Module,Suspension Module, Body Module, Electronic Module for
BMW
/ MINI/ Rolls Royce after 1996.
2. Full systems diagnostic tool: access to ECU information, read & erase fault generic / manufacturer-specific codes, turns off warning lights.
3. AUTOPHIX 3910
Bluetooth
diagnostic scan tool has many popular service functions including Service Reset, EPB Replace Brake Pad, Battery Management, Throttle Learning, CBS Reset, ETC Reset, Supports OEM level diagnostics.
4. All OBD2 Modes with all 8 test modes works on most OBDii / CAN cars made from 1996 and forward.
5. Battery Voltage Monitor: check vehicle battery voltage status in real time.
6. The upgraded 3910
Bluetooth
diagnostic tool can help you read many data stream parameters for VAG vehicle. such as
engine
RPM, speed, coolant temperature, voltage, and so on. Allows you to more accurately and simply understand the situation of your vehicle.
7. Automatically generate Diagnostic Report, When you encounter a problem that you do not understand, you can print the diagnostic report to the mechanic.
8. Quick to learn and easy to use: Support
Android
4.2 ; logically well-laid interface; DTC LookUp Library.
9. Free lifetime update via APP; Feedback function for timely online technical assistance.
10. Multilingual support: English, French, Spanish, German, Italian, Chinese, Cestina.
11. Automatic connection: Don't worry about how to connect the product to your mobile phone, just plug the product into the OBD interface of the car, then turn the ignition on, and then open the "Autophix" APP to automatically connect successfully.
Powerful Full System Diagnosis, Not Only for
engine
Check!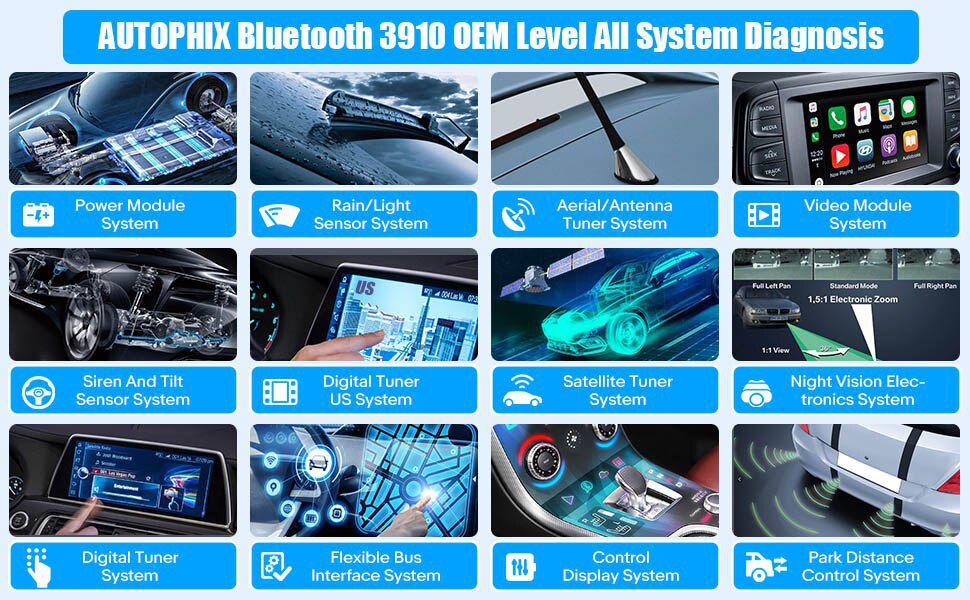 1. Powertrain Module
Engine, Transmission, Battery Energy, All wheel, Transfer case, Electrical Machine Electronics, Diesel Fuel Pump, Thermal Management, and more.
2. Suspension Module
Accumulator Management Electronics, Steering, Integrated Chassis Management, Tyre Pressure Control, Active Cruise Control, Braking System, Suspension,
TPMS
and more.
3. Body Module
SRS
Airbag, Camera,
Audi
o Radio, Gateway, Touch box, Light, Battery Charging System, Head up Display,
Seat
& Door Motor system, Immobilizer,
ABS
ESP system, Air Condition,Electric Windows, Telephone, and more.
4. Electronic Module
Centralized control system for engine and power transmission, Chassis integrated control and safety system,Intelligent body electronic system, and more.

Warm Tips: Support car system will vary from pecific year and model, and it is NOT a bidirectional scanner.
What Makes the AUTOPHIX 3910 Better Than Other Scanners?
Support OBD Full-Mode Diagnostics

Mode 1--Live Data/Data Stream shows read the real-time data stream in character.

Mode 2--Freeze Frame is a snapshot of the operating conditions at the time of an emission-related fault.

Mode 3--Read Fault Codes Option is used to read the current, pending or permanent trouble codes.

Mode 4--Erase/Clear Codes Option allows you to clear the existing or historic trouble codes.

Mode 5--O2 Monitor Test displays oxygen sensor monitoring test results from the vehicle's memory.

Mode 6--On-Board Monitoring Test can be utilized to read the results of on-board diagnostic monitoring tests for specific components/systems.

Mode 7--I/M Readiness checks if the various emission-related systems on the vehicle are operating normally.

Mode 8--Component Test displays a list of components and their locations on the vehicle.

Mode 9--Vehicle Information allows you to view the relevant information of the vehicle, including VIN (Vehicle identification Number), CID (Calibration ID) and CVN (Calibration verification number).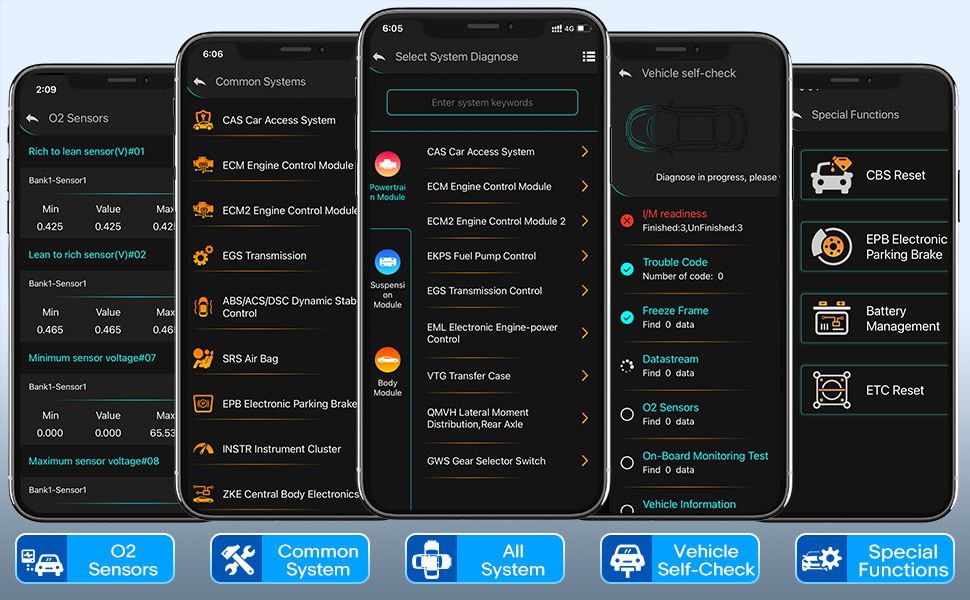 Service Reset/ EPB(Electronic Parking Brake)
Service Reset Functions, get work done efficiently,A comprehensive car scanner with VGA vehicle of service reset functions has been a trend in the market. Generally, service reset functions with wider compatibility are newly added to AUTOPHIX 3910 car diagnostic tool, enabling you to do your own maintenance work efficiently and effortlessly.

The EPB Function has a multitude of uses to maintain the electronic braking systems safely and effectively. The applications include deactivating/activating the brake control system, assistingwith brake fluid control, brake diagnostics, openingand closingbrake pads, settingbrakes after disc or pad replacement and also readingand clearingEPB/SBC trouble codes. It is also capable of retrieving Fault Codes information from the ECU.
Throttle Learning / Transmission
The Throttle Learning Function is to initialize the car's throttle actuators, so that the learning value of the ECU returns to the initial state, so as to more accurately control and adjust the throttle (or idle speed motor) action to regulate the intake the amount.

Transmission : Today's transmissions provide a wealth of information about the success of up and downshifts, solenoid action (too harsh, too soft), clutch engagement, fluid temperature, fluid level, pressure, and other, critical, operational and diagnostic information.NL102 can easily solve the troubles caused by the Transmission for you.
Immobilizer/ Fuel Supply
Immobilizer Function,As a low-cost key programming tool for VAG vehicles, AUTOPHIX 3610 can help entry-level locksmith complete the key programming procedures fast with on-screen instructions, Disable the
lost
vehicle keys and program a new replacement key fob.
Fuel Supply System is very important ,if these problems occur: the engine may be stalling or misfiring, poor engine performance, lack of power, transmission (gear) may not be shifting correctly, it means that you need to fix your car. After that, the trouble codes will need to be cleared. 3610 can clear codes and reset these codes
SAS (Steering Angle Sensor)/
SRS
(Airbag)
The SAS Calibration Steering Angle Sensor Calibration permanently stores the current steering wheel position as the straight-ahead position in thesteering angle sensor.
The SRS crash data diagnose and reset. Read the
SRS
(Airbag) system error code accurately and erase the error code, turns off the airbag warning light. To prevent the dreadful danger caused by the airbag not working properly after a collision.
Enhanced Data Stream Mode
In the Data Stream function, you can view all items, selected items. The upgraded 3910 Bluetooth diagnostic tool can help you read many parameters for VAG vehicle. such as engine RPM, speed, coolant temperature, voltage, and so on. Allows you to more accurately and simply understand the situation of your vehicle.
Voltage Monitor
AUTOPHIX 3910 Bluetooth code reader support gather real-time battery voltage, analyze information automatically in no time, and display results in a graph, instead of a direct result on the screen that an ordinary code reader, which will ensure that you can access and analyze the accurate live data and determine the battery's health status or expected remaining life,Make you know your battery status in advance.
Diagnostic Report
Simple and super easy to use, this device is a must-have diagnostic tool for today's technologically loaded vehicles. It is a car doctor, so to speak, that allows you to identify and troubleshoot any problem with your car engine. If you are unable to determine the problem, you can Print report out the diagnostic data and send the data to your mechanic for help.
AutoVin & AutoScan
This OBD2 scanner uses AutoVIN technology, to provide quick and accurate car identification in one touch, without the manual input of vehicle make, model, and year data. After that, this scan tool will lead to diagnostics where you can choose the systems to scan.

*NOT for all cars. If failed, navigate through menus to go manual diagnostics.