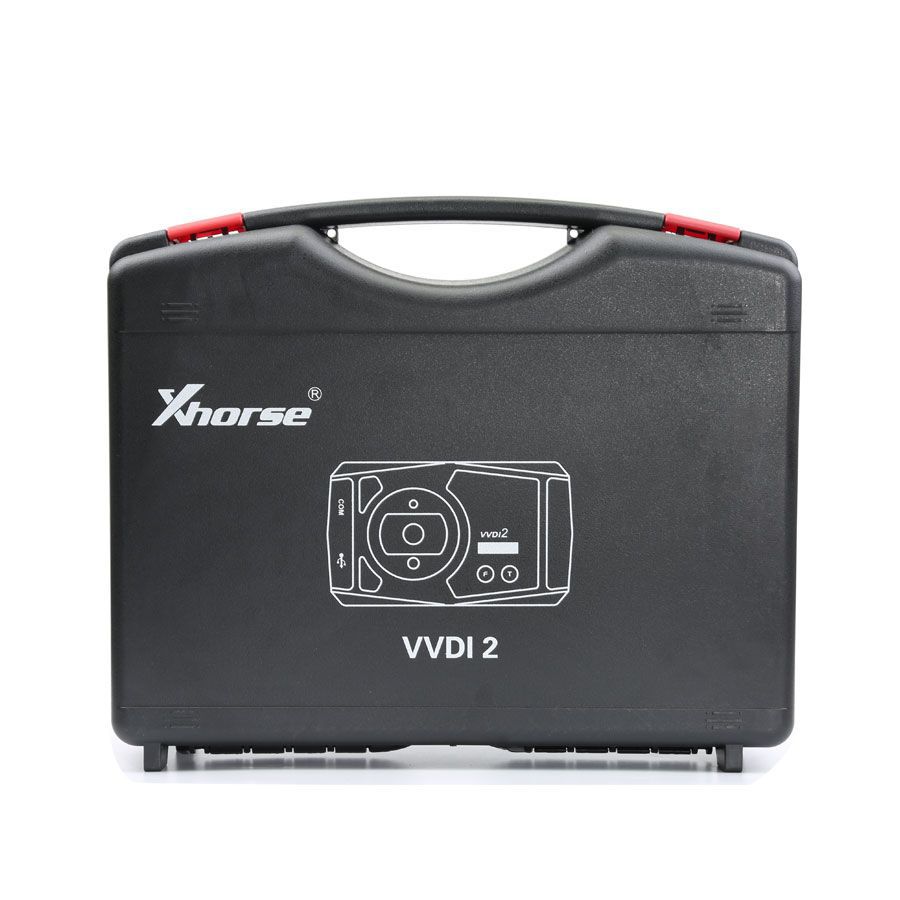 Neues Ankunftsprogramm LAUCH X431 CRP123E OBD2 Code Reader für Triebwerk ABS Airbag SRS Transmission OBD Diagnostic Tool Kostenlose Aktualisierung Online Lifetime
LAUNCH X431 CRP123E ist eine evolutionäre intelligente Lösung für die Diagnose von Pkw, Update -Version für CRP123 und Creader VII +.CRP123E unterstützen alle 10 -Modelle von OBDII -Test für eine vollständige Diagnose.CRP123E unterstützt auch die Systemdiagnose von ABS.SRS, ENG und AT System.
Shipping:

Express Shipping Service


Estimated delivery time:

3-15

working days.

See details ?

Returns:

Return for refund within 30 days, buyer pays return shipping.

Read details ?

Support: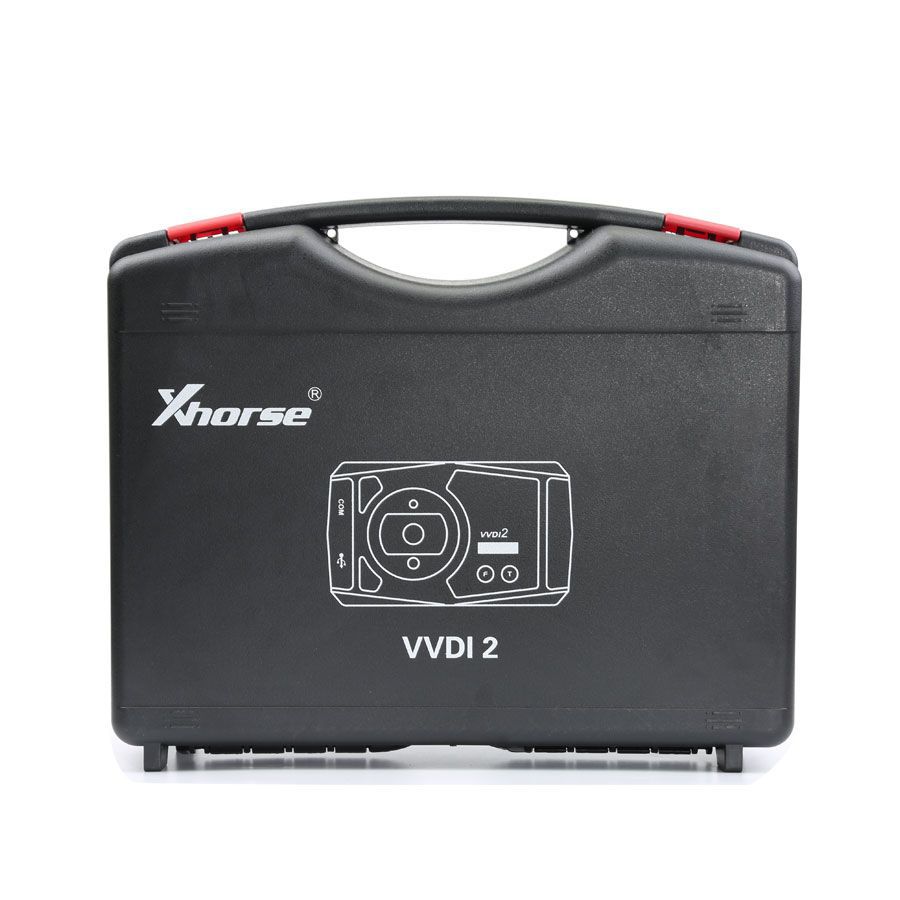 Product Details

Product's Reviews
LAUCH x431 CRP123E OBD2 Code Reader for Engine ABS Airbag SRS Transmission OBD Diagnostic tool CRP123 E Free Update
Creader Professional 123E ist eine evolutionäre intelligente Lösung für die Diagnose von Pkw.Sie ist von der fortgeschrittenen Diagnosetechnik LAUNCRSQUOS geprägt und zeichnet sich durch eine breite Palette von Fahrzeugen mit leistungsstarken Funktionen und durch präzise Testergebnisse aus.
Starten Sie x431 CRP123E Highlights:
1.CRP123E ist eine aktualisierte Version von CRP123 und Creader VII +, Support mehr Autos
2.Schnelle VIN Autodetect, Support Wifi conntact, One Key Free Update Online Lifetime
3.Automatische Erzeugung und Hochladen von Diagnose -Berichten
4.820303; Mehrsprachigkeit: Englisch, Spanisch, Französisch, Deutsch, Italienisch, Russisch, Japanisch, Koreanisch, Portugiesisch
5.Unterstützen Sie alle 10 -Modelle von
OBDII
-Test für eine vollständige Diagnose und Systemdiagnose von
ABS
.
SRS
, ENG und AT -System.
Vorteil des Starts CRP123E:
1.Smart (Auto -Erkennung) Diagnose: Sobald das Werkzeug und das Fahrzeug richtig angeschlossen sind, startet das System Auto -Erkennung Prozess.Sobald der gesamte Prozess erfolgreich abgeschlossen ist, wird automatisch ein Diagnosebericht erstellt und an Ihre E -Mail -Box gesendet (falls gebunden).
2.Manuelle Diagnose: Wenn Auto -Detect -Fehler auftritt, ist auch die manuelle Diagnose verfügbar.Diagnosefunktionen umfassen: Versionsinformationen, DTCs lesen, DTCs löschen und Datenstrom lesen (unterstützt 3 -Anzeigemodi: Wert, Graph und Merged).
3.Diagnose des OBD II: Es werden 10 -Modi des OBD -II -Tests unterstützt, einschließlich EVAP, O2 -Sensor, I /M -Readness, MIL -Status, VIN Info und On -Board -Monitorprüfungen usw.
4.Ein -Klick Update: Lassen Sie sich Ihre Diagnose -Software und APK online aktualisieren.
5.Diagnoseschichte: Diese Funktion bietet einen schnellen Zugang zu den getesteten Fahrzeugen und Benutzer können wählen, den Prüfbericht anzusehen oder vom letzten Betrieb wieder aufzunehmen, ohne von Grund auf neu anzufangen.
6.Diagnostisches Feedback: Verwenden Sie diese Option, um uns das Fahrzeug -Problem zur Analyse und Fehlersuche vorzulegen.
7.DTC Library: Ermöglicht Ihnen, die Definition des diagnostischen Fehlercodes aus der reichlich vorhandenen DTC -Datenbank abzurufen.
8.Anzeige der Batteriespannung in Echtzeit, sobald sie richtig mit dem Fahrzeug verbunden ist.
Starten Sie CRP123E Support Car List: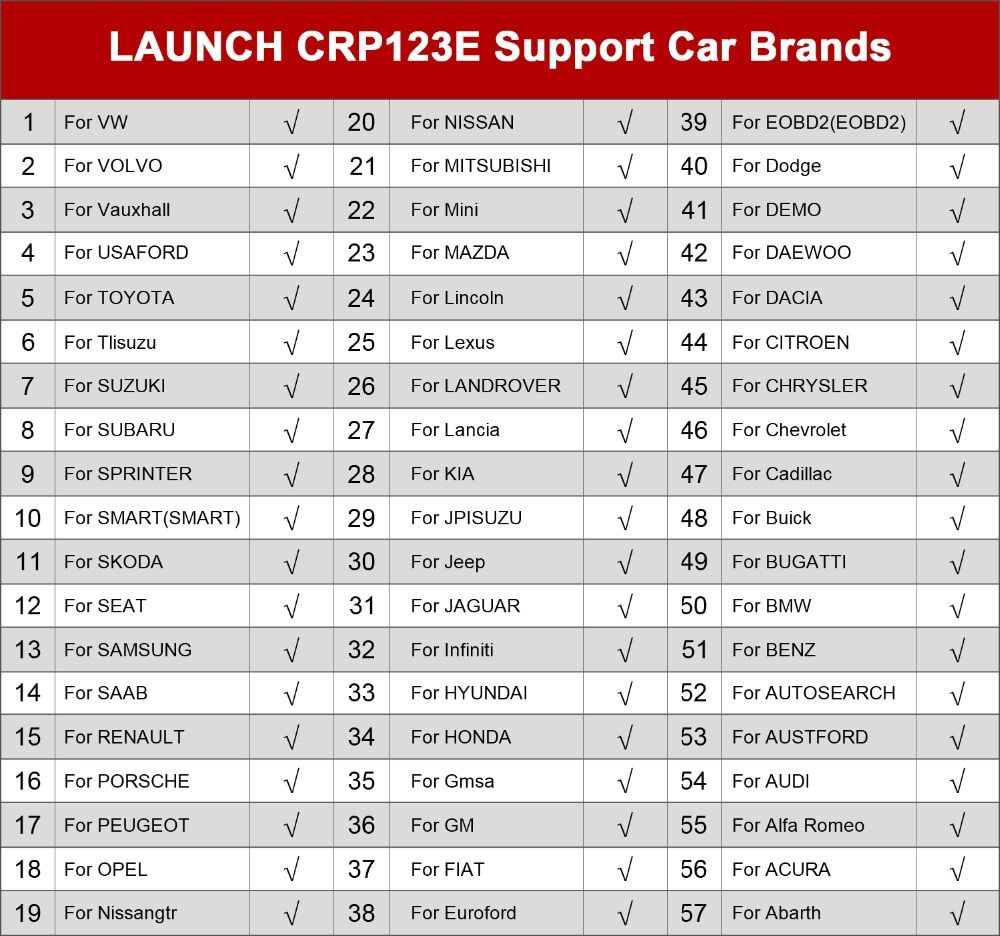 Starten Sie die CRP123E -Spezifikation:
Bildschirm: 5'Zoll Touch Screen
RAM: 1G
ROM: 8GB
Batterie: 4000mAh wiederaufladbarer Li -Akku
Bereich der Eingangsspannung des OBD II: 9 ~18V
Aufladen über:DC 5V Ladekabel oder Diagnosekabel durch Anschluss an Vehiclersquos DLC
Abmessungen: 228mm x 125mm x 34.5mm
Betriebstemperatur: -10 bis 50degC (14 bis 122 Fdeg)
Lagertemperatur: -20 bis 70degC (-4 bis 158 Fdeg)
Starten Sie CRP123E VS Starten CRP123: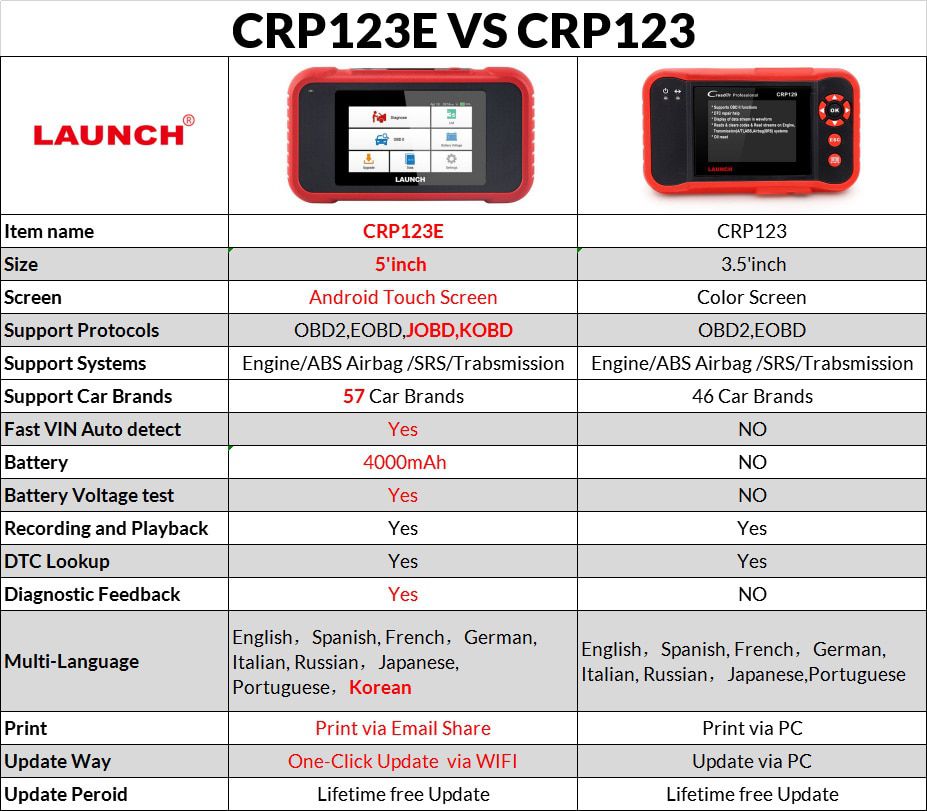 x431 CRP123E Hardware Display: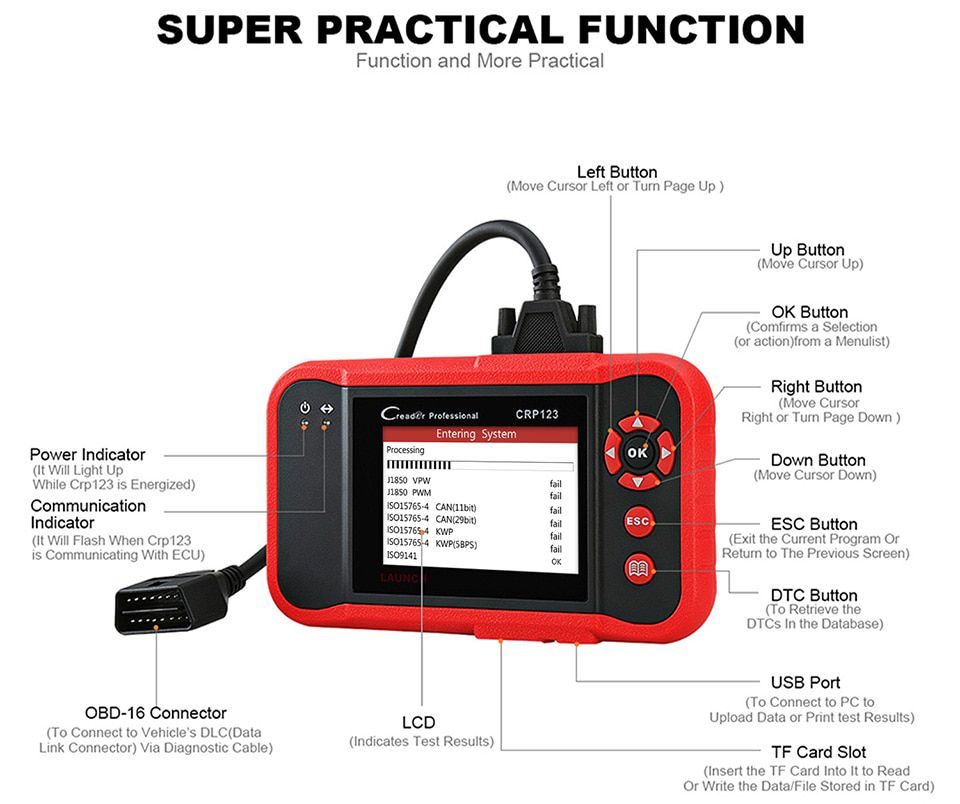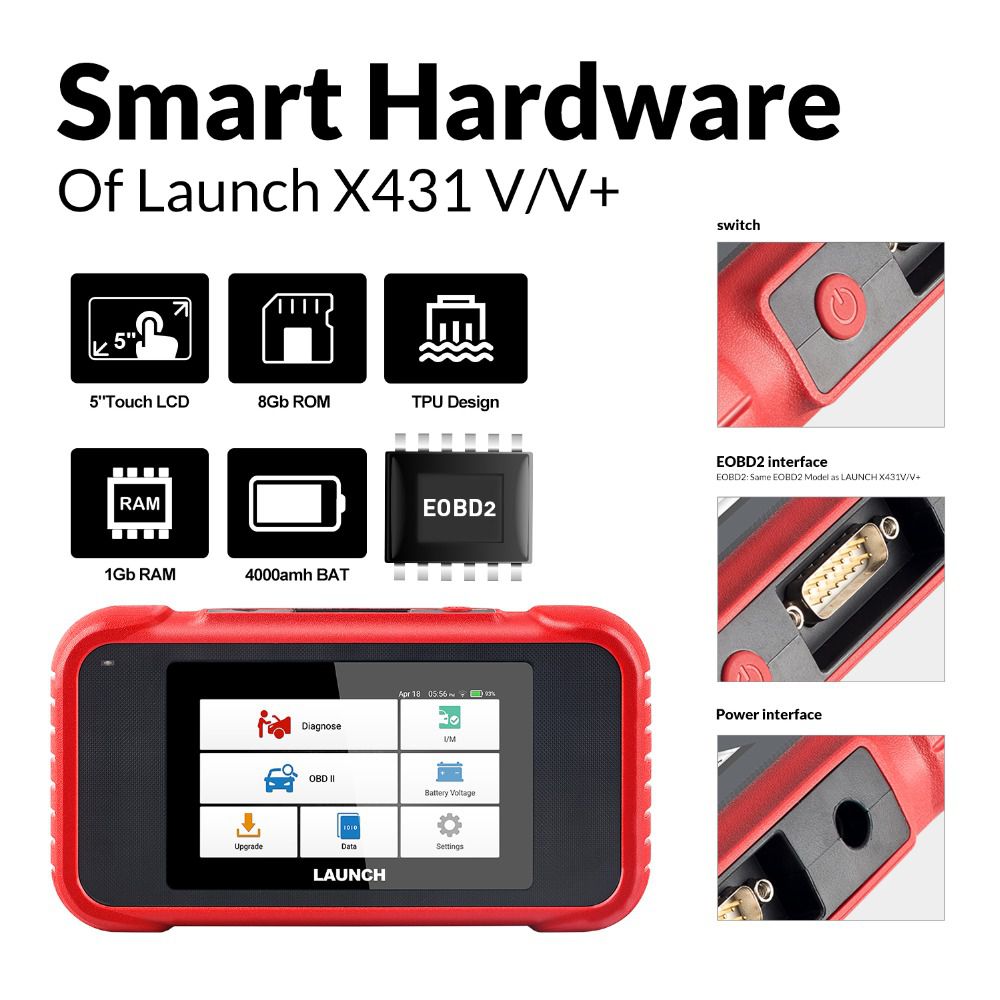 X431 CRP123E Software Display: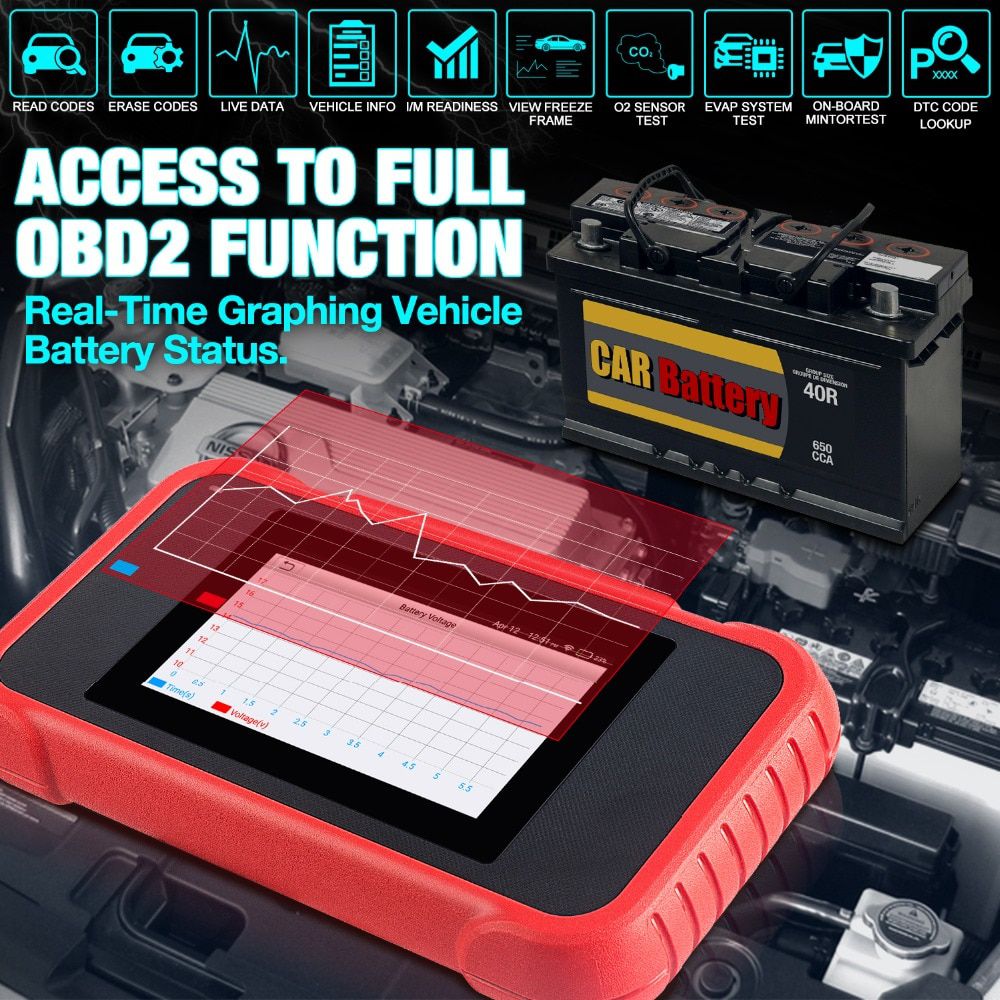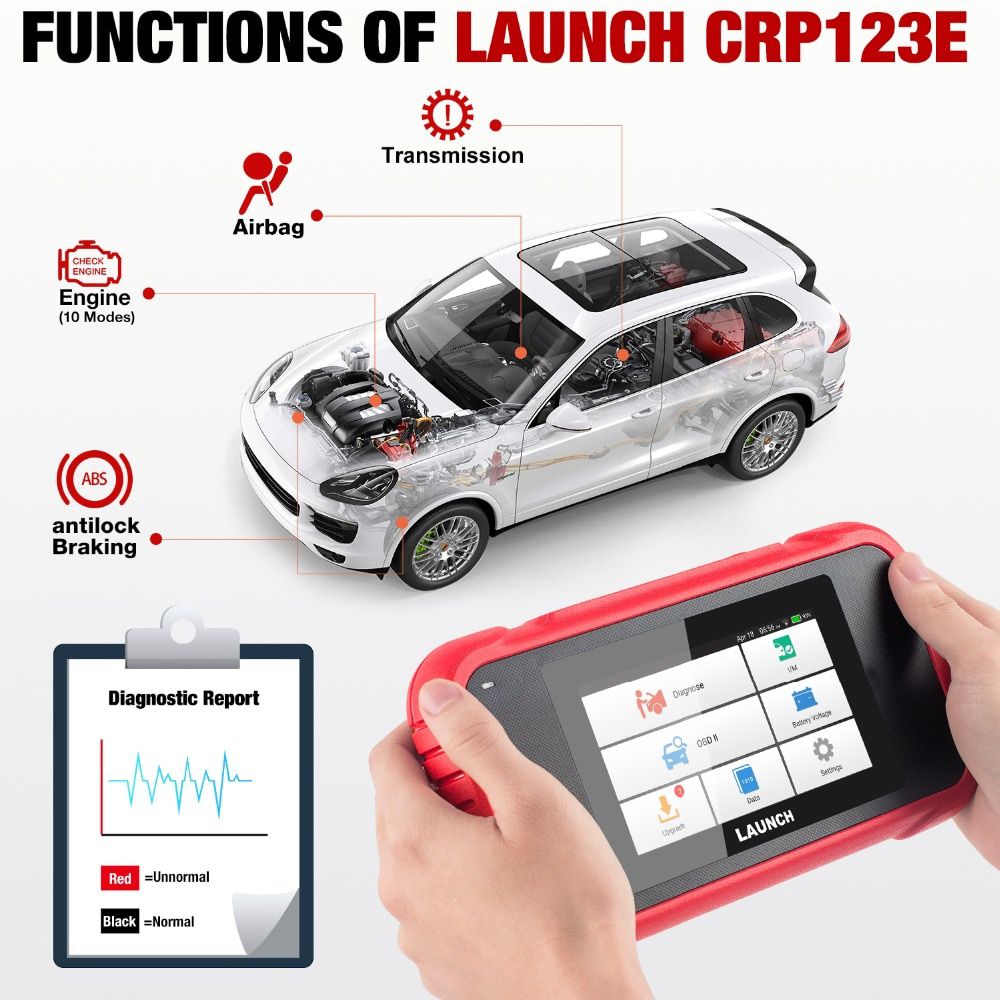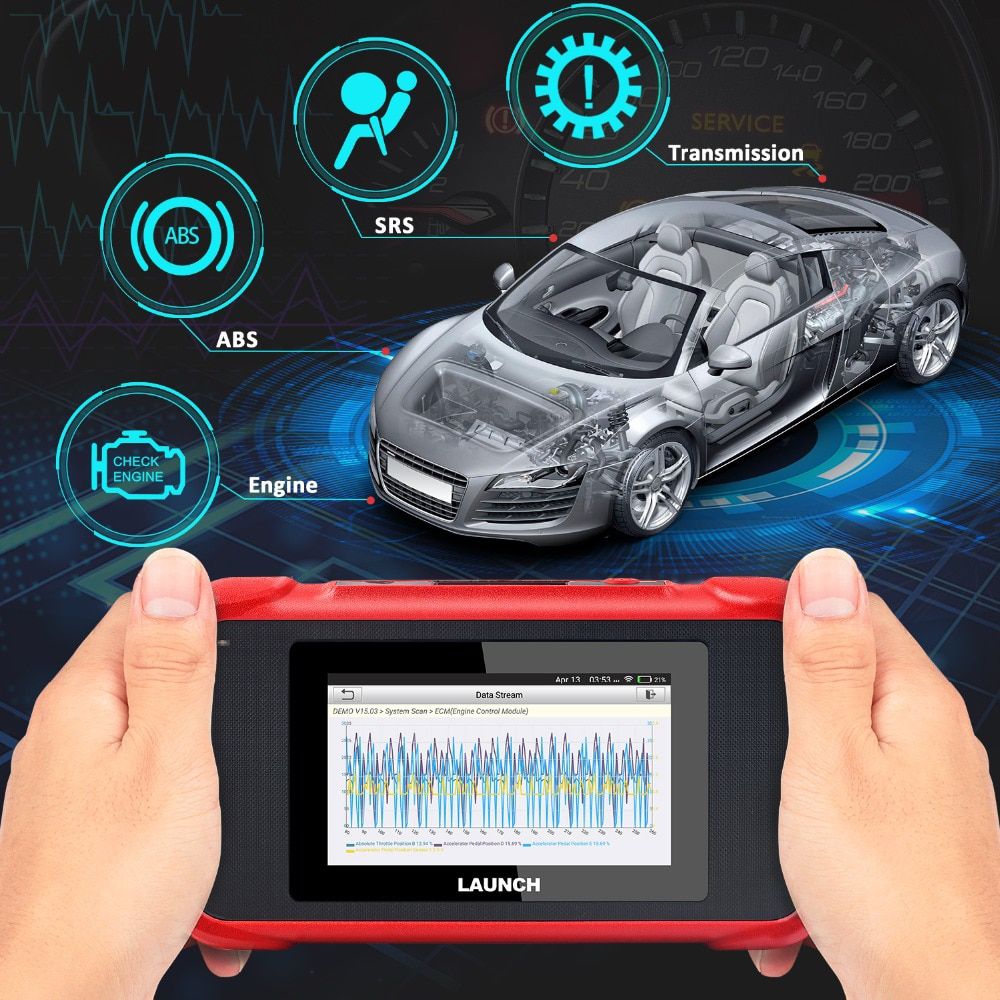 X431 CRP123E Paketliste:
1.Creader Professional 123E
2.OBD II Diagnosekabel
3.DC 5V Ladekabel
4.Handbuch für Benutzer
5.Tasche mit Tragetasche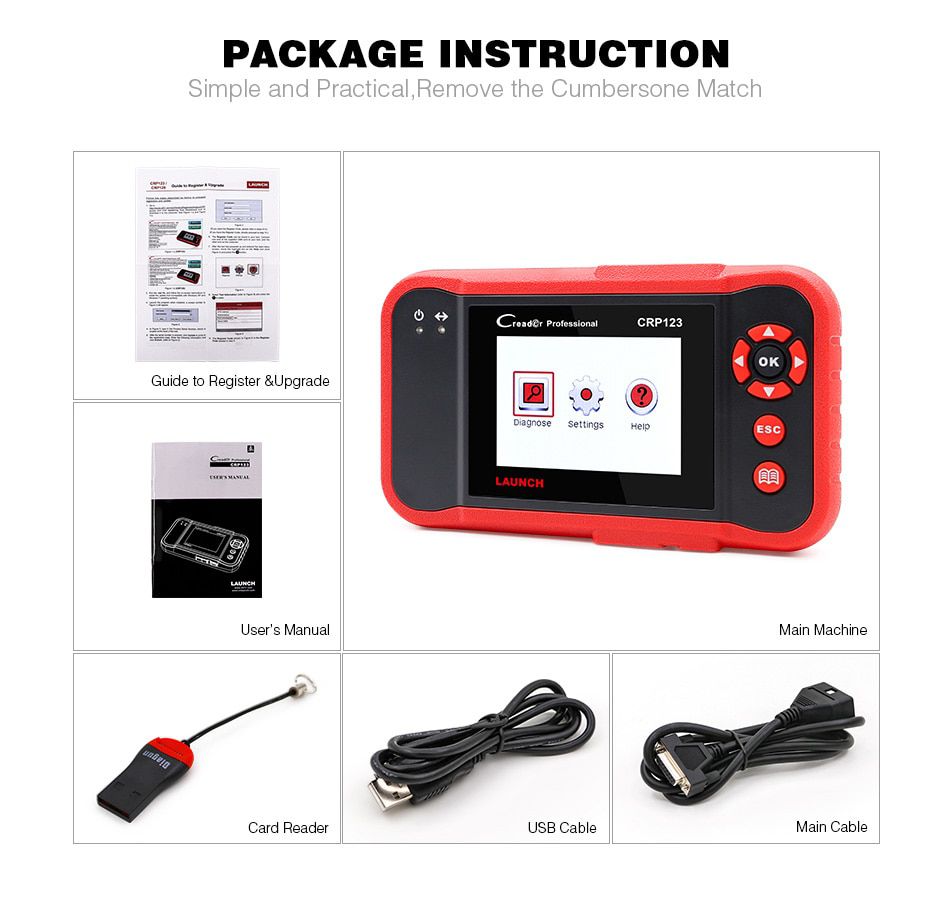 LAUCH X431 CRP123E FAQ:Q1: Das System stoppt beim Lesen des Datenstroms.Was ist der Grund?
A1: Es kann durch einen verschlossenen Stecker verursacht werden.Bitte schalten Sie dieses Werkzeug aus, verbinden Sie den Stecker fest und schalten Sie es wieder ein.
Q2: Bildschirm der Haupteinheit blinkt beim Zündstart des Motors.
A2: Verursacht durch elektromagnetische Störungen, und das ist ein normales Phänomen.
Q3: Bei der Kommunikation mit dem Bordcomputer gibt es keine Antwort.
A3: Bitte bestätigen Sie die richtige Spannung der Stromversorgung und überprüfen Sie, ob das Gaspedal geschlossen ist, die Übertragung in der neutralen Position ist und das Wasser in angemessener Temperatur ist.
Q4: Was ist zu tun, wenn das System die automatische VIN -Erkennung nicht startet?
A4: Bitte überprüfen Sie die folgenden Gründe:
bull Ob das Werkzeug richtig mit dem Vehiclersquos DLC verbunden ist.
bull Ob die ldquoAutomatic Detection on Connectrdquo Schalter ausgeschaltet ist.Wenn ja, schieben Sie es auf EIN.
Q5: Warum gibt es so viele Fehlercodes?
A5: In der Regel verursacht Itrsquos durch schlechte Verbindung oder Fehlerschaltung.
Q6: How to upgrade the system software?
A6: 1.Schalten Sie das Werkzeug ein und sorgen Sie für eine stabile Internetverbindung.
2. ldquoVersionrdquo, and tap ldquoDetect the System Versionrdquo to enter the system upgrading page.">Tippen Sie ldquoSettingrdquo auf das Menü Arbeit, wählen Sie ldquoAboutrdquo -> ldquoVersionrdquo und tippen Sie auf ldquoDetect the System Versionrdquo, um in die Systemupgrade -Seite einzutreten.
3.Folgen Sie den Anweisungen auf dem Bildschirm Schritt für Schritt, um den Prozess zu beenden.Es kann mehrere Minuten in Abhängigkeit von der Internetgeschwindigkeit dauern, bitte haben Sie Geduld, nachdem das Upgrade erfolgreich abgeschlossen ist, wird das Tool automatisch neu starten und in das Menü Job.