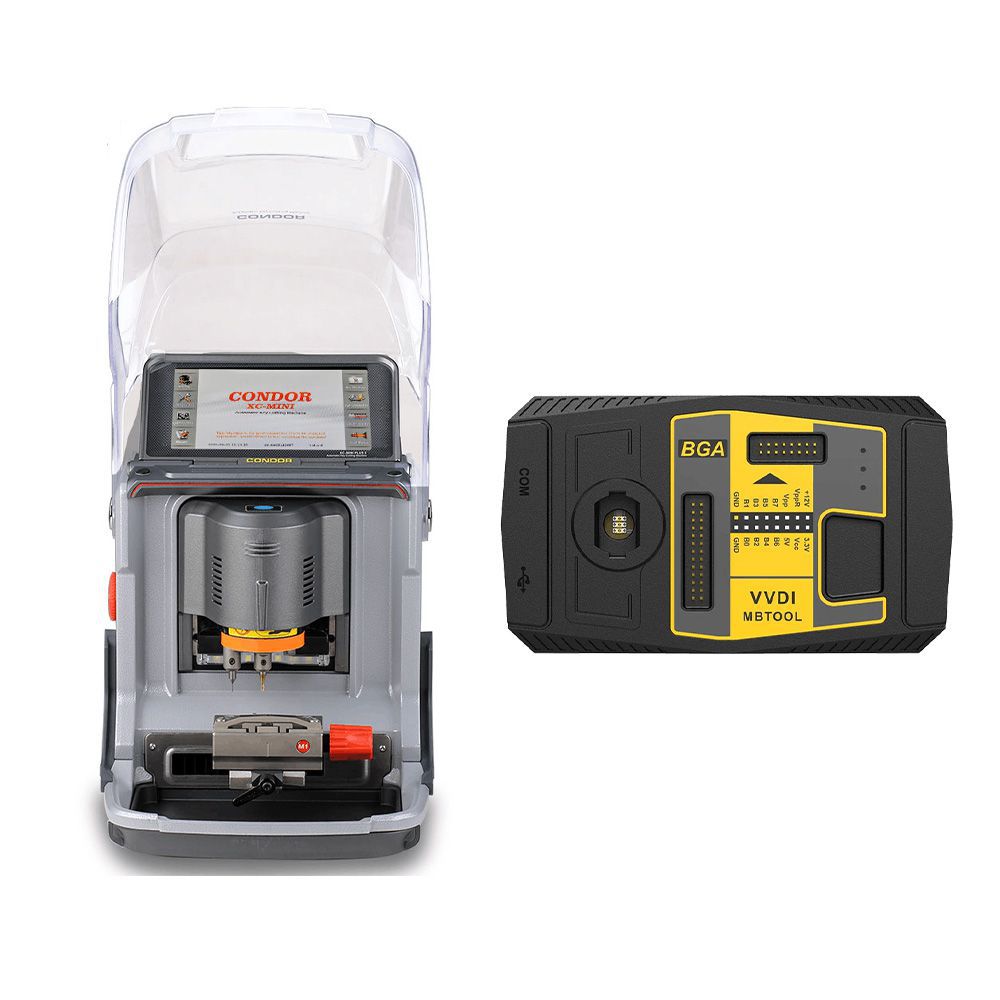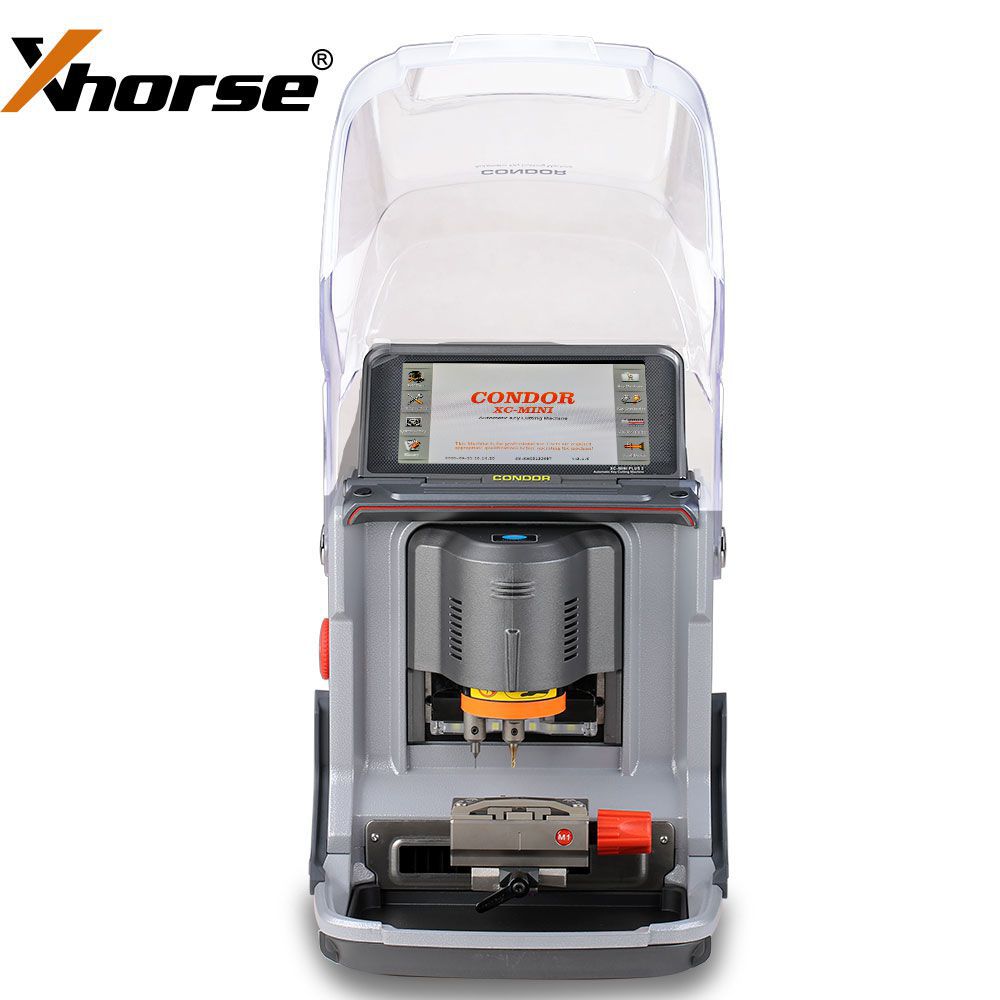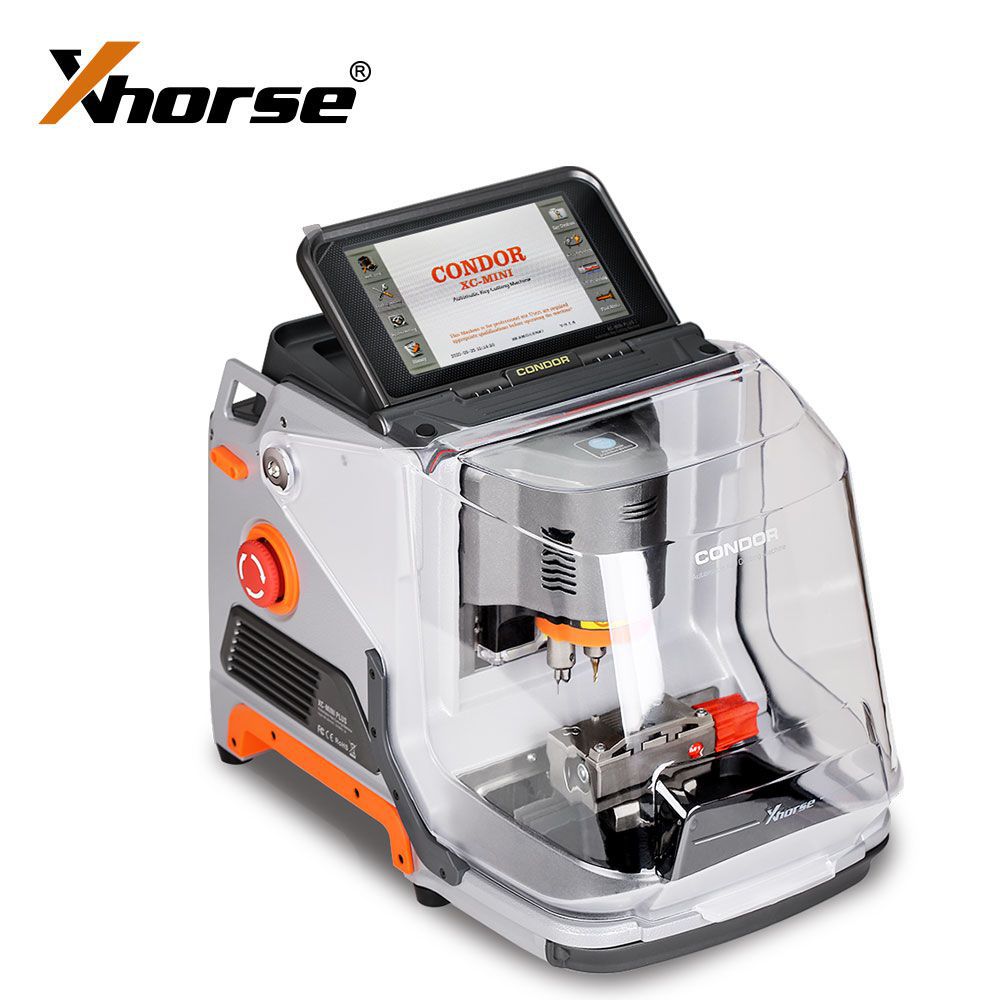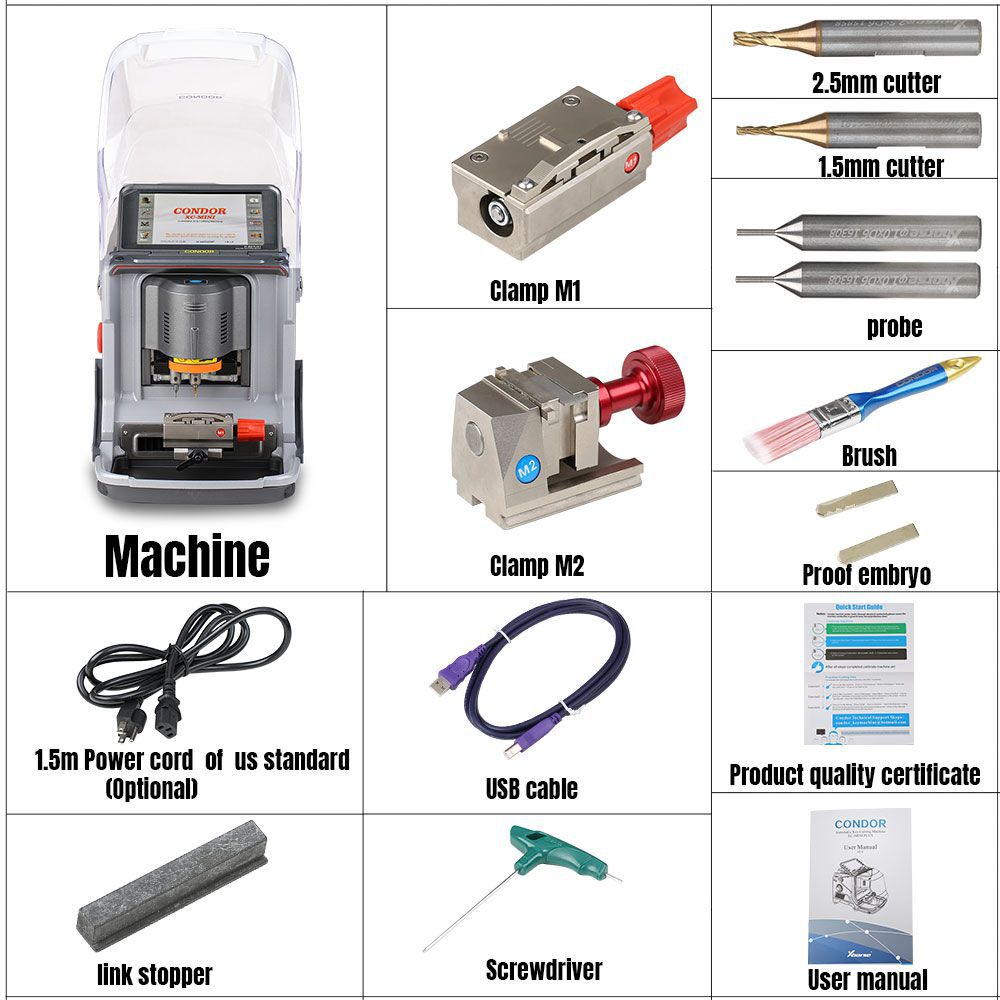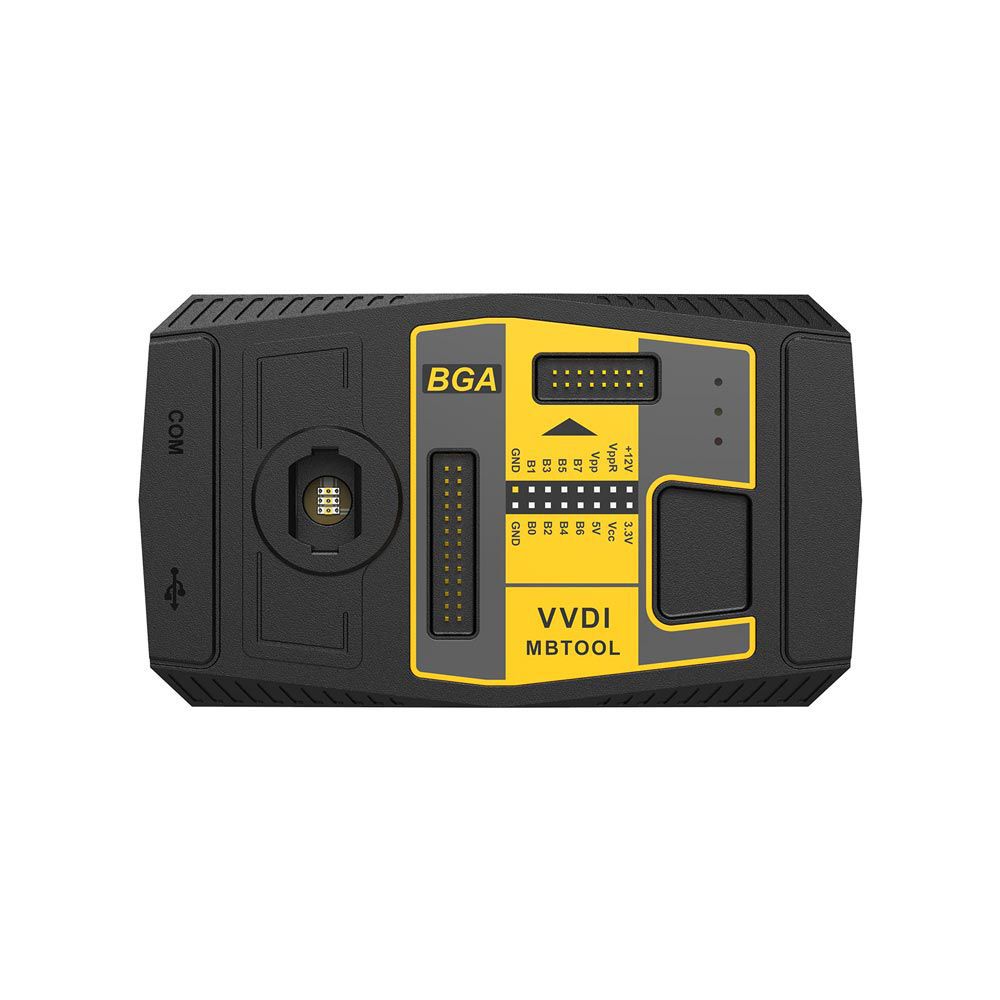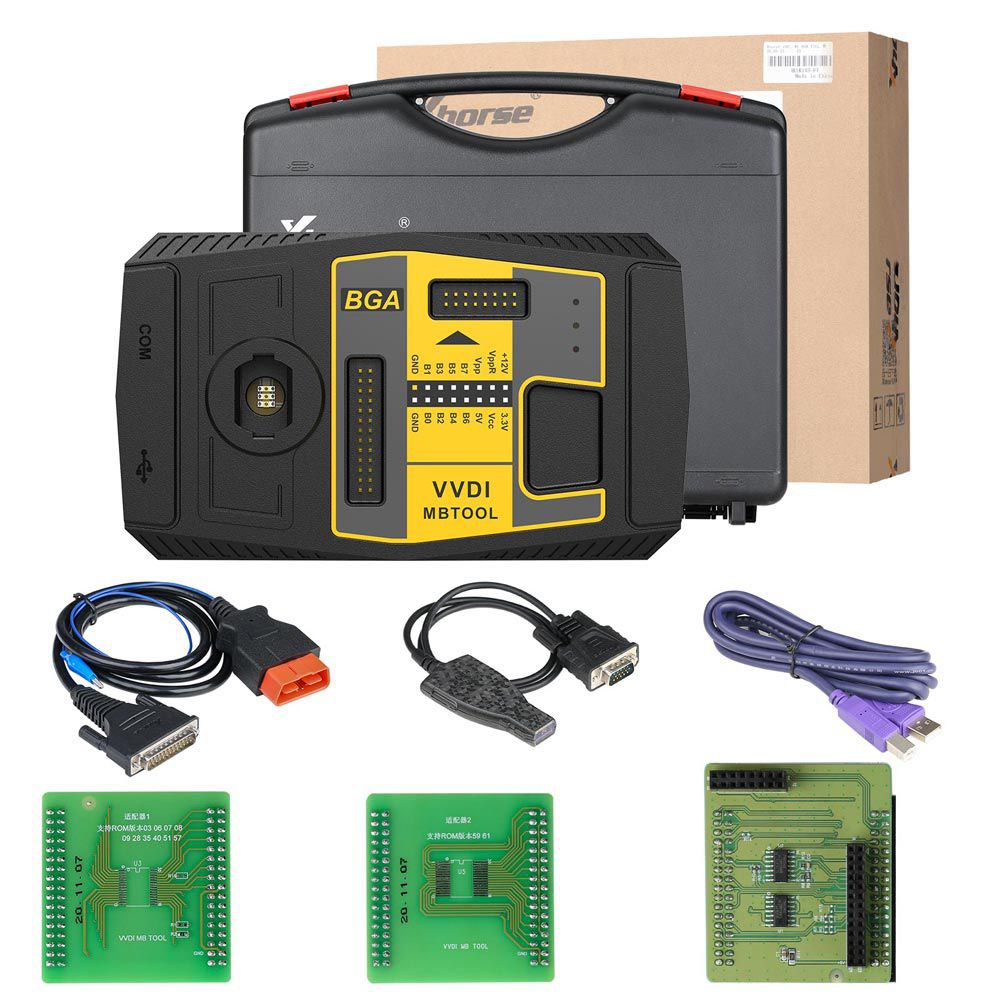 Xhorse Condor MINI Plus Cutting Machine with VVDI MB BGA Tool Key Programmer Get One Free BGA Token Everyday
Latest Xhorse Condor MINI Plus Cutting Machine with VVDI MB BGA Tool Benz Key Programmer Get One Free BGA Token Everyday.
Shipping:

Express Shipping Service


Estimated delivery time:

3-15

working days.

See details ?

Returns:

Return for refund within 30 days, buyer pays return shipping.

Read details ?

Support: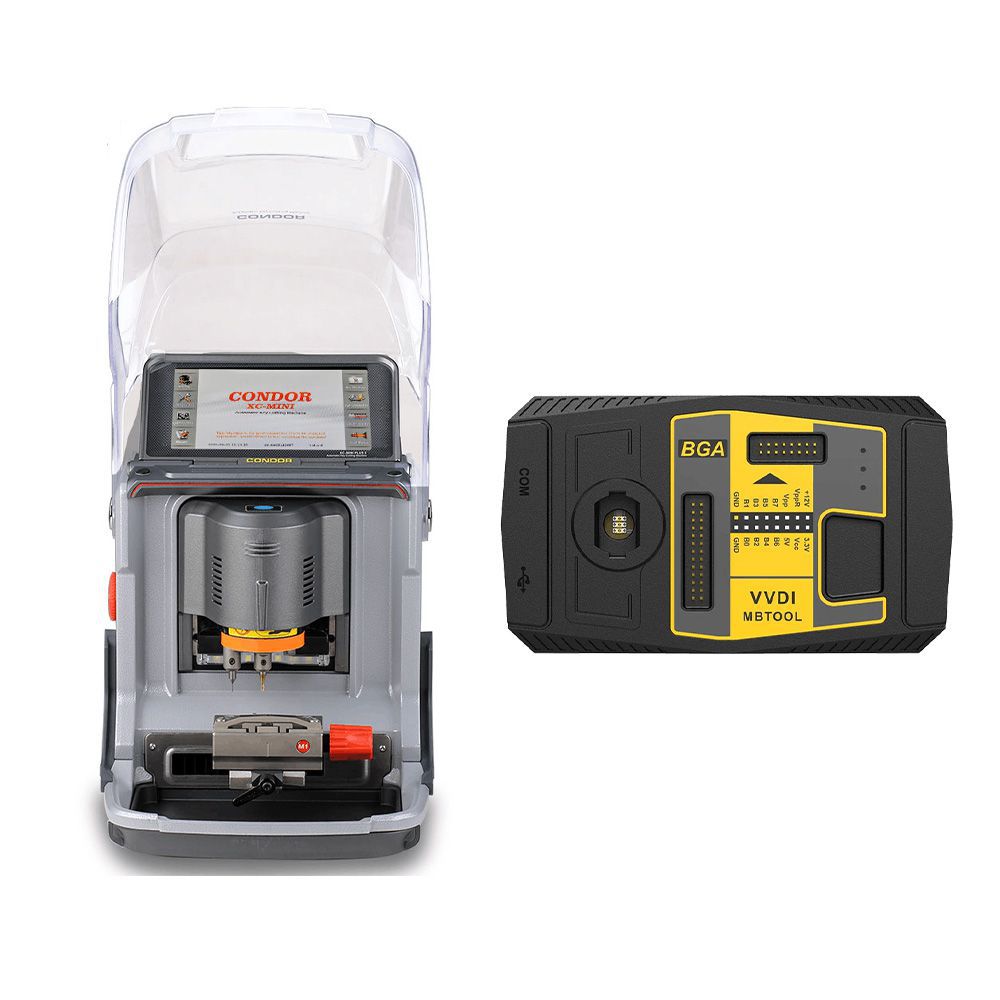 Product Details

Product's Reviews
Latest Xhorse Condor MINI Plus Cutting Machine with VVDI MB BGA Tool Benz Key Programmer Get One Free BGA Token EverydayThis package contain Original Xhorse CONDOR XC-MINI Plus
and
Original Xhorse VVDI MB BGA Tool And you can Get 1 free BGA Token everyday.Xhorse CONDOR XC-MINI Plus Automatic Key Cutting MachineCONDOR XC-MINI Plus Advantages:
1. Space between cover and key is bigger than XC-MINI.
For XC-MINI, many keys with casings like
VW
flip key will not allow you to close the cover, while CONDOR XC-MINI Plus won't have this problem.
2. Screen is designed with adjustable angle. Much more convenient to operate and see what's on the screen.
3. Mounting support - to make it easier when mounting the machine on vehicles when you carry out, it won't move around.
4. With better PCB and motors, high quality to work more stable and accurate
5. Much easier to clean up, dust after cutting the key won't get in the machine, which make XC-MINI PLUS with extended service life.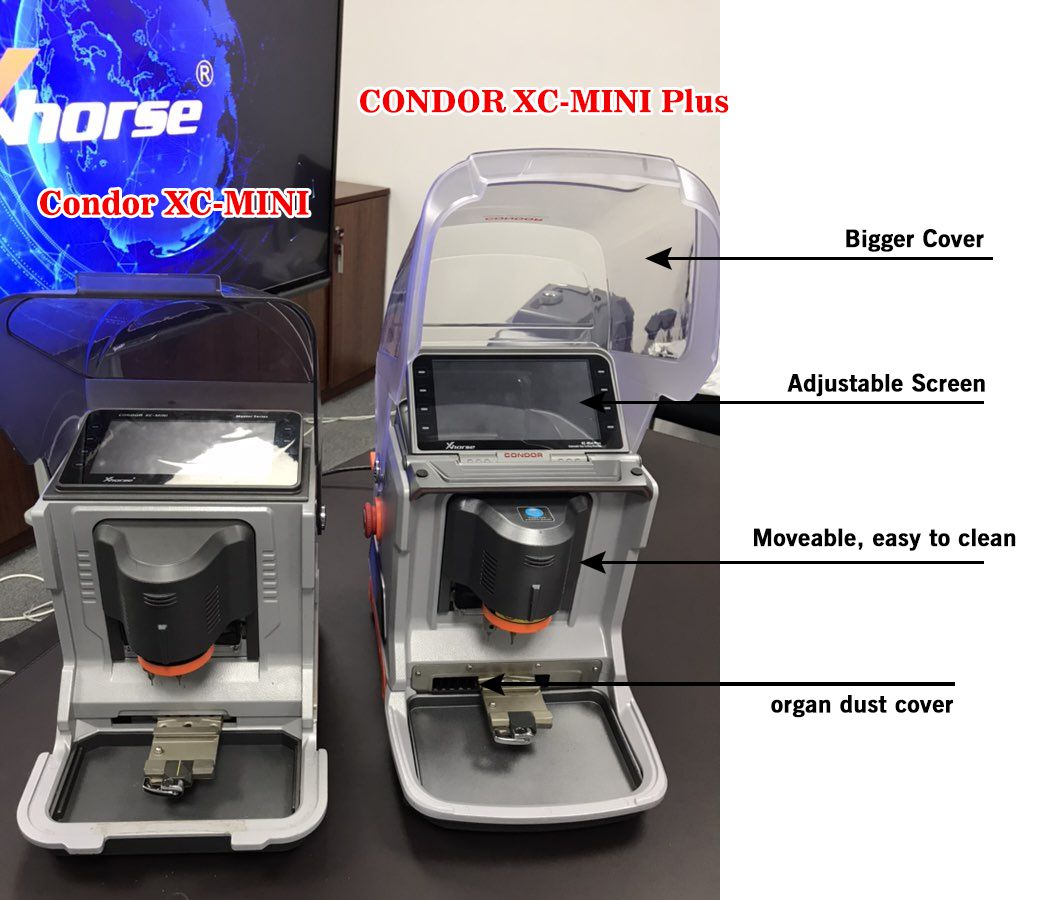 CONDOR XC-MINI Plus Advanced Design, Integrated Casting
Carefully Selected Materials, Trustworthy Experience.

Clamp
There are 4 different clamps: M1, M2, M3 and M4. CONDOR XC-MINI PLUS Automatic
Key Cutting Machine
standard includes two clamps M1 and M2, which support sided, track, dimple and Tibbe keys. Some Dimple/Tibbe keys require M3 optional clamps, especially for Ford FO21 &
Citroen
SX9 keys.
M1 and M2 are standard equipped,
M3
and
M4
are optional.

Built-in Database
Built-in accurate database, detailed parameters, and clear key graphics. Based on the blank key data, users can choose the designated blank key from the data to edit its shape, space, width, and depth in order to form the customized key.
Data of Domestic manufactured automobiles in continuously added into the blank key database. Domestic users will have a more convenienet user experience.
Patent Certificate
Condor XC-Mini Plus Automatic
Key Cutting Machine
has its Design Patent Certificate, Computer Software Copyright Registration Certificate, Utility Model Patent Certificate, and others.
Essential Tool for All Key lost:
Condor Mini Plus contains three powerful functions for all keys lost: updated key database, cut by biting & find biting. It is an essential tool for locksmith to recover easier from All Key
lost
.
Manufacture Craftsmanship
All aluminum main body, partial accessories made of 304 stainless steel. Gross weight 24KG with stable and durable structure. Machine is equipped with 3-Axis Precision Ball Screw Transmission, which is more accurate and stable than T Screw Transmission.
Power/Motor Specification
Adopting internal general full range AC (Alternating Current) input (90V-26V); working efficiency up to 93%; can sustain surge voltage input (300V) for up to 5 seconds, no-load power loss lower than 5 watts; CONDOR built-in 200V brushless motors; high rotation speed; low noise; minimal vibration; strong reliablity and great stability.
Online Update
CONDOR XC-MINI Plus supports online update. Users can update the machina by connecting the machine to internet-connected PC, server is available 24/7 and free of region restriction for online update.
Support Online file update. Update log will automatically display in software.
Technical Support
Xhorse technical support team provides professional and efficient online technical support for free. Three Years warranty and lifelong after-sale customer service are included in order to guarantee the carefree machine operation for customers. Customers feedback and suggestions are always appreciated.
Support More Than 60 Global Brands, 2,000 Car Models and 20,000 All Key lost DatabaseCONDOR XC-MINI Plus Parameter:
Working Temperature: -20-50℃
Humidity: 10-90%
Working Voltage: 90-264V/AC
Input Frequency: 47-63Hz
Package Dimension: 515 x480x380mm
Machine Dimension: 250 x413x300mm
Net Weight: 20kg
Gross Weight: 24kg
Power: 200W
USB port: USB2.0
LED Display: 1024x600
Motor Rotation Speed: 9000rpm
Original Xhorse VVDI MB BGA TooL Benz Key Programmer Including BGA Calculator Function
Support All Key Lost : W204, W207,W166, W246, W212, W212(old), W216, W164 2009-, W210 (newly add) and some others
Xhorse VVDI MB BGA TOOL Brief Introduction:
1. Support BE key, read password and prepare new key via IR.
2. NEC V051,V057 support on board get password
3. All NEC keys support on board write and erase
4. Password calculate:support BGA keys,NEC keys(include 51,57version)etc.,work fast.
5. Support renew EIS and ELV
6. Support write EIS and ELV
7. Support online generate key file
8. Unlock ELV Function
VVDI MB BGA Tool Function in Details:

1. Read Write Key
1. Read key basic information
2. Key with BE version, we can read password from key via IR directly. Of course,renew key, write new key file via IR is also supported
3. Support IR repair key, repair key not work via IR
4. NEC adaptor can read key password from NEC v51, v57 version
5. Support write and renew (NEC adaptor) NEC key versions following: v51, v57,v28, v35, v40,v03, v06, v08 (Keyless Go),v05, v07, v09 (Keyless Go),v59, v61 (Keyless Go)
2. EIS Tools
1. Support read EIS data via OBD and IR adaptor
2. Under OBD mode, we provide auto detect EIS type for CAN protocol
3. Support read W164, W209, W211 EIS via OBD without gateway support
4. Support read old Motorola EIS (HC05, HC08, K-Line) password via IR directly
5. Support renew EIS, make 2 nd hand EIS to new one (online)
6. Support replace EIS, you can write original EIS data to new EIS via IR
7. Support write new VIN
8. Support clear TP
9. Support disable key position
10. Support personalize W204 ESL
11. Support test EIS, ELV, working key status
12. Support type:
W164,W164 2009-,W166, 197, 212, 218, 246,W169, 209, 211,W172, 204, 207, 212 (old, with ELV) W203, 463, 639 (K),W202, 208, 210 (K),W215, 220 (K),W230 (K),W216,W221,W639 2009-
3. Password Calculation: support working key and lost all key
1. Password calculation can get the key password from working key and EIS(online)
2. CAN protocol EIS all support password calculation (support BGA keys and other NEC keys)
3. We also support calculate password for NEC v51, v57 keys. No soldering.
4. Data acquisition time depends on the key version. It needs about 3.5 minutes -13minutes, BGA version need about 5 minutes
5. Calculate time in server: 30 seconds – 1 minute
6. Now VVDI-MB TOOL is the fastest tool for password calculation
7. Lost all key password calculation: Now we support calculate password for W166, W212, W246, W212(old, with ELV) while lost all key
8. Support type (have working key): W164,W164 2009-,W166, 197, 212, 218, 246,W169, 209, 211,W172, 204, 207, 212(old, with ELV),W216,W221,W639 2009-
4. Prepare Key File
1. Prepare key file means prepare the key file which you will write to new key(online)
2. Prepare key file need about 20 seconds
3. Support VVDI-MB type EIS data and old Motorola EEPROM dump
5. ESL Tools
1. Support read ESL data via OBD (K-Line)
2. Support renew ESL, make 2 nd hand ESL to new one (online)
3. Support replace ESL, you can write original ESL or EIS data to new ESL
4. Support write new VIN
5. Support clear TP
6. Support auto personalized ESL, no need renew EIS
7. Support check ESL damage status
8. Support repair W204 ESL NEC chip(fatal error: 0xAA) and Motorola ESL chip
9. Support renew VVDI-MB W204 emulator
6. Renew ECU/Gearbox
1. This function support renew, write VIN, personalization operation for module ECU,Gearbox, ISM etc
CONDOR XC-MINI Plus Package List:
1pc x CONDOR XC-MINI Plus Machine Body
1pc x 1.5mm Cutter
1pc x 2.0mm Cutter
1pc x 2.5mm Cutter
1pc x 1.0mm Probe
1pc x Power cord (1.5m) (Chinese Standard)
1pc x USB Cable(1.5m)
1pc x Brush
1pc x M1 Clamp for Single/Double sided keys
1pc x M2 Clamp for Channel-track keys
1pc x Quick Start Guide
1pc x User Manual
VVDI MB BGA Tool Package List:
1pc x VVDI-MB TOOL device
1pc x IR adaptor
1pc x USB cable
2pcs x NEC adaptor
1pc x NEC adaptor base PCB
1pc x K Line in OBD line
1pc x OBD line